Putzmeister America, Inc. Launches Ready Mix Truck Line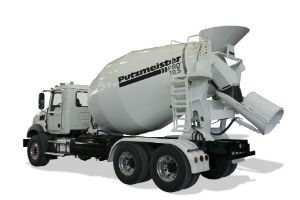 Putzmeister America, Inc. (Putzmeister), a leading manufacturer of concrete pumps and Telebelts®, has added ready mix trucks to its equipment portfolio. Significantly expanding its offering in the concrete supply chain, Putzmeister's new product line will allow the company to better meet market demands. Putzmeister will offer two different designs of mixers, a Pro Series standard ready mix truck, and a Bridge Maxx Series with a booster axle.
"The inclusion of ready mix trucks in our equipment portfolio is a natural extension for Putzmeister," said Dave Adams, president and CEO of Putzmeister America. "We already provide customers with technologically-advanced concrete pumps, and we're confident our new ready mix trucks will deliver one more solution to their job site challenges."
Both the Pro Series and Bridge Maxx Series mixers feature large drum openings—available with a standard 43-inch discharge opening and a 47-inch paver discharge opening—allowing for quicker charging and discharging. The durable drum is 3/16-inch thick, has a ¼-inch-thick one-piece pressed and dished head 78 inches in diameter, and is made from AR 200 steel. Its one-piece pressed blades have weep holes for easy cleaning.
All of the new mixers also feature exclusive Ergonic® Mix Control (EMC), a fully programmable control system that balances engine speed with hydraulic pump output to achieve the optimum drum speed, reducing drum wear and saving fuel. Minimum and maximum drum speeds are programmable to batch plant preference. While EMC can operate in either a manual or automatic mode, programmed interlocks make sure the mixer always operates safely and efficiently. A convenient dash-mounted monitor shows key operating parameters along with warning lights and alarms.
Additionally, the new mixers have a durable, yet light transmission, fully hydraulic control, high-strength modular construction, and large platform for increased work space.
The Bridge Maxx Series features a booster axle with hydraulic suspension powered by a pressure-compensating variable-displacement pump for excellent axle loading consistency, reduced frame stress, and safer highway travel.