New, Lightweight 56Z Truck-Mounted Concrete Boom Pump Introduced by Putzmeister America, Inc.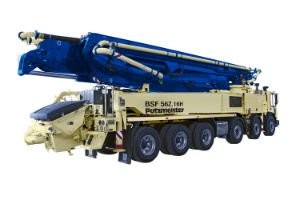 Putzmeister America, Inc. (Putzmeister) introduced its new, lightweight 56Z-Meter Truck-Mounted Concrete Boom Pump at the 2013 World of Concrete trade show in Las Vegas. The new pump's innovative, compact design will offer a reduced unit weight and a smaller footprint, while accommodating a long-reaching boom.
"Many of the product advances found in the new 42Z-Meter model have now been extended into the 50-meter class," says Jim Bury, director of engineering for Putzmeister America. "From the small, but revolutionary RFID hopper grate switch to the all new weight-to-strength optimized boom and structural components, we have brought together world-class design and user value into a D.O.T.-friendly package."
The 56Z-Meter's design reduces unit weight to less than 100,000 pounds (45,000kg), delivering a 50-meter class boom to areas previously unreachable due to weight restrictions. The standard One Sided Support (OSS) outrigger system will allow for a smaller footprint, with 18' 8" (5.70m) front and 27' 3" (8.30m) rear spreads. Despite its smaller size, the pump will offer a long-reaching boom—180' 9" (55.09m) vertical, 163' 9" (49.90m) horizontal. The 56Z-Meter will feature common boom elbows, interchangeability of many parts, decreased maintenance costs, and even greater reliability.