Chicago Pneumatic Enhances Portable Compressor Product Line with the Launch of the Durable CPS 275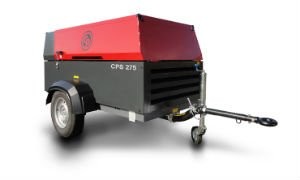 Chicago Pneumatic (CP) is pleased to announce the launch of the CPS 275, the newest addition to the versatile line of portable compressors, available now at CP distributors. Featuring a highly efficient airend that provides 271 CFM @ 100 psi, the CPS 275 is a versatile compressor.
Built with reliability and flexibility in mind, the CPS 275 KD portable compressor boasts a powerful 74 HP Kubota engine. Complete with a sound suppressed enclosure, and an easy-to-navigate control panel.
With an overall length of 148 inches, an overall width of 66 inches, and a height of 58 inches, the CPS 275 is as maneuverable as it is powerful. The ready-tooperate weight of the CPS 275 is 3,141 pounds with a fuel tank capacity of 34 gallons, more than enough for a full days work.
"The CPS 275 does it all," explains Eric Massinon, Product Manager for CP Portable Energy. "But the most impressive thing about the CPS 275 is its unprecedented durability."
The CPS 275 has a number of maintenance features engineered into the machine that will ultimately add to the life of the equipment. These features include torsion bar suspension for added durability and adjustability of ride height, an innovative control panel that provides protective shutdown for high engine and compressor temperatures, and 500-hour service intervals.
Additional features of the CPS 275 include a large tool storage box for operator convenience, glow plugs for reliable starting, and an easy-to-read fuel gauge and hour meter.