Introducing the CPG 150: Rounding out the CPG Line with Power and Reliability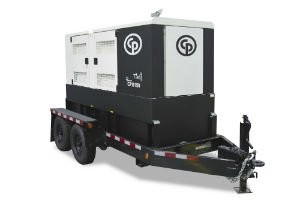 Chicago Pneumatic launches the CPG 150; the latest and most powerful unit in the popular line of generators. Complete with a six-cylinder Interim Tier 4 John Deere engine and a Leroy Somer alternator, the CPG 150 JD iT4 is ideal for even the toughest environments, where availability of reliable power is essential.
Armed with a 219-gallon in-frame fuel tank, the CPG 150 provides 33.5 hour run time at 75% load. Other standard features include a 110% fluid containment frame for the environmentally friendly contractor, a solid-state digital controller with easy-to-read analog gauges, and an electronic governor for maximum voltage stability. Another innovative feature is the quiet operation of the CPG 150; only 71 dB(A).
Also available are a wide range of options, including a battery charger, spare tire, tool box, rear stabilizer jacks, and a skid-mounted option. Unique to the CPG line of generators is the comprehensive instrument panel, which enables all key operating functions to be supervised without opening the canopy. A transparent cover protects the control panel ensuring long-lasting functionality.
"The thing that is most impressive about this machine is the raw power of the sixliter John Deere engine," says Eric Massinon, CP product manager for portable energy. "The CPG 150 simply will not let you down."
A wet, skid-mounted CPG 150 weighs 7,484 pounds, and a wet, trailer-mounted unit weighs in at 8,541 pounds. The skid-mounted unit (in inches) measures 133"x 47" x 78", whereas the dimensions of the trailer-mounted unit measure 191" x 94" x 92".