New Power Zone Controller Revolutionizes Magnum Mobile Generator Operations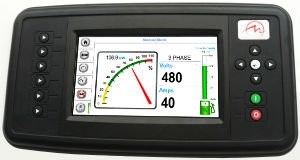 Following extensive research with mobile generator operators, Magnum Power Products has introduced the Power Zone™ controller, the next generation of mobile generator controls, at The Rental Show in Las Vegas. Exclusive to Magnum mobile generators, the Power Zone controller seamlessly integrates engine and generator functions to significantly simplify generator operation, troubleshooting, and maintenance.
"When asked what they were looking for in the perfect user interface, mobile generator users were almost unanimous in their response," said Ben Froland, product manager—power generation, Magnum Power Products. "They wanted simpler controls, easy-to-read graphics, and improved troubleshooting capabilities. The Power Zone controller delivers on all counts."
With its 7" display—the largest color display in the industry—the Power Zone controller is specially designed for maximum readability, even in direct sunlight. Speaking of which, the display boasts built-in UV protection to withstand the long-term effects of the sun. Programmable convenience buttons along the side of the Power Zone controller put the information users need most at their fingertips, without the need to scroll through numerous screens. Bold fonts, color graphics and universal icons make the Power Zone controller easier to read and more intuitive to use than many analog user interfaces.
When powered on, the Power Zone controller automatically sets the coarse voltage adjustment. Similarly, Power Zone will auto-sense and readjust coarse voltage if users change the selector switch position. The controller's integral fine voltage adjustment then allows users to make small changes, even increasing voltage to accommodate long cable runs without the need for external potentiometers.
Three different service warnings—oil filter, fuel filter, and air filter—allow users to easily schedule preventative maintenance. Additionally, the Power Zone controller's event log records up to 250 events to help users monitor their generator and quickly troubleshoot any issues.
The Power Zone controller's robust design makes it ready to operate reliably in even the most extreme environments. The controller has passed testing in conditions ranging from desert heat to frigid arctic temperatures. It can also withstand extreme shocks, vibration, and humidity.
The Power Zone controller is targeted for availability on Interim Tier 4 units at the end of 1Q2013.