Magnum Continues Tradition of Light Tower Innovation with New Features and Accessories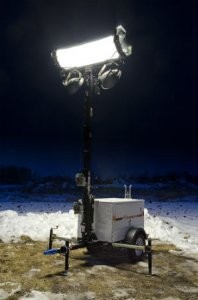 At The Rental Show in Las Vegas, Magnum Power Products unveiled several innovations to their market-leading light towers: new LED light fixtures, a Tubelight™ diffused light solution, and a new vertical mast family. These introductions have been designed to help rental companies maximize the versatility of their rental fleets with a minimum investment.
"The rental business is especially competitive. These innovations offer rental companies options that minimize their investment, reduce the total cost of ownership, and allow them to more easily leverage their rental fleets to grow their businesses," said Dave McAllister, vice president of business development, Magnum.
Specific to lower total cost of ownership are the new LED light fixtures Magnum is introducing. Targeted for availability by March of this year, these fixtures offer more than 50,000 hours of operation—five times that of traditional metal halide bulbs. Additionally, unlike metal halide fixtures, the LED light fixtures require no strike or cool-down time during operation; they turn on and off instantly for immediate use of the light tower. The LED fixtures are 100% serviceable, with all components readily available and an industry-standard LED chip platform that ensures future sustainability. Job site users can rest assured that the LED fixtures with their lightweight aluminum housings are durable and vibration resistant—fully capable of withstanding both the rigors of construction use and transportation to and from the rental yard.
Magnum light tower owners looking to cost-effectively add a diffused light solution for their customers will be delighted with the Magnum Tubelight. Designed to be easily added to Magnum light towers with oval light fixtures, the Tubelight diffused light solution installs within minutes, without any tools required. The durable nylon and aluminized woven silica fabric tube is designed to provide years of service.
The new Tubelight will be ideal for those users who are looking for a light source that can easily illuminate a 360-degree area with glare-free light," McAllister said. "Rental companies will appreciate being able to add this capability to their existing Magnum mobile fleets and provide their customers significantly more versatility with a much smaller investment."
The Tubelight is targeted for availability by the end of February.
Finally, to address the needs of users looking for a Magnum light tower solution that can be quickly deployed in the field, the company is introducing a new family of vertical mast light towers. Available by the end of February, the vertical mast units feature a five-section tubular steel mast that can extend to heights between 14ft and 23ft in a mere 30 seconds thanks to an electric winch, compared to two minutes for a traditional mast with a manual winch. Like other Magnum light tower masts, it can be rotated 360 degrees from ground level, even when fully extended. Integrated fork pockets and a lifting eye make it easy to place and move around the job site.
These vertical mast light towers also feature the benefits customers have come to appreciate in all Magnum light towers, including a trailer with a full tubular steel frame, four-stroke diesel engine, and reliable generator.