BOMAG Offers Versatile BVP Series Single-Direction Plate Compactors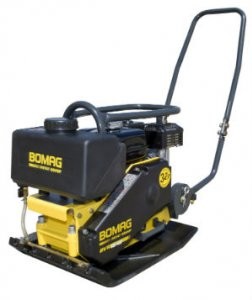 BOMAG's versatile BVP Series single-direction plate compactors are durably designed for superior performance on a variety of jobs, from soil or asphalt compaction to paver and patio installation.
Powered by air-cooled Honda gasoline engines equipped with low oil alert, the BVP Series plate compactors are built to withstand the rigors of daily use. An engine protection frame guards against incidental damage, while vibration isolation extends engine and overall equipment longevity. A bolt-on exciter is easy to remove, keeping maintenance time and cost to a minimum.
The BVP Series includes two models. The BVP10/36 weighs 183 pounds, covers a working width of 14.2 inches and produces 2,250 pounds of centrifugal force. The BVP18/45 weighs 201 pounds, has a working width of 17.7 inches and delivers 4,050 pounds of centrifugal force.
A wide range of features and options make the BVP Series ideal for professionals and do-it-yourself customers alike. The base plate offers extra width for compaction below fences or boundaries. An optional Vulcolan mat helps prevent damage to paving stone or brick surfaces. A 1.8-gallon water tank can be quickly removed without tools, and a water sprinkler system is available as an option.
Each compactor's foldable and removable steering handle is isolated from vibration. Maneuverability to, from and around a jobsite is simple, thanks to a balanced lifting point, carrying handles and optional transport wheels.