New Case 521F wheel loader achieves advanced performance, fuel efficiency with new features and SCR emissions technology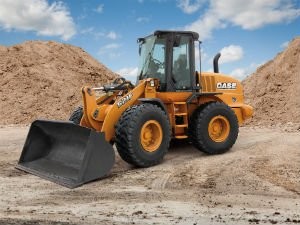 Case Construction Equipment introduced the new Case 521F wheel loader, offering customers a 12 percent increase in fuel efficiency over the previous E Series model, while delivering faster acceleration and quicker cycle times. The machine is available in standard Z-bar, extended reach and tool-carrier models, and is the latest offering in the company's F Series wheel loader line, which boasts premium features and industry-leading performance, productivity and efficiency.
Case chose selective catalytic reduction (SCR) technology for the 521F to meet Tier 4 Interim emissions standards based on the machine's application tasks and power demands. SCR results in lower temperatures in the exhaust system while optimizing combustion.
"SCR was the obvious choice for the 521F because a wheel loader's tasks are more variable, creating inconsistent engine loads and power demands," said Rob Marringa, brand marketing manager, Case Construction Equipment. "Rather than compromise power, we let the engine do what it does best - run at peak performance - and then use an after-treatment for emissions."
According to Marringa, the benefits of SCR technology are greater efficiency and reduced downtime because there's no heightened fuel burn or diesel particulate filter (DPF) regeneration. In addition, lower ambient temperatures means slower degradation of lubricating oil, which extends service intervals. Furthermore, fewer engine components means less crowding under the hood and easier access to service points. Operators also will experience a faster throttle response and cleaner emissions by avoiding recirculation equipment utilizing cooled exhaust gas recirculation (CEGR) and DPFs.
"At Case, we're committed to matching the technology with the task, and we believe that SCR technology for our F Series wheel loaders is the simplest, most powerful and efficient solution," Marringa said.
Improved performance and versatility enhance productivity
The new 521F wheel loader offers optional heavy-duty axles, enabling it to perform more tasks such as operating in scrap yards or recycling centers. These axles, with auto-locking front and open rear differentials, have the same design as the larger F series wheel loader axles, including metal face seals and sintered bronze brake linings. They offer outstanding traction in all conditions, especially in non-compacted surfaces like gravel, and help reduce tire wear when working on hard surfaces.
"The heavy-duty axles have superior sealing capability and longer service lives, improving owner and operator costs," Marringa said. "In addition, they can accept higher load capacities, allowing operators to configure the unit with solid, foam-filled or chain-wrapped tires."
On a 50-meter loading and dumping cycle, Case estimates the 521F wheel loader can make up to 56 cycles per hour, moving up to 144 yd3 (110 m3) or 212 tons of material per hour.
Advanced instruments and cab improve machine and operator effectiveness
The new advanced instrument cluster (AIC) on the 521F wheel loader has four operating modes, allowing operators and service technicians full visibility and control of basic job functions, such as diesel exhaust fluid (DEF) level and fuel efficiency, as well as protective controls that can help eliminate costly repairs.
"Auto Idle is a fuel-saving feature that allows for multiple idle rates, thereby reducing fuel consumption while operators are waiting for the next truck to load or task to be completed," said Marringa. "As an additional benefit to the Case wheel loader customer, Automatic Machine Protection recognizes a critical problem with the hydraulics, engine or transmission, and shuts down the engine as soon as the machine stops moving."
The Case 521F wheel loader delivers class-leading comfort and visibility and new features to improve operator effectiveness. Case's Quiet Cab boasts the largest cab in the industry, has a 70.8 decibel rating, and supplies cleaner air with a dual air filtration system. It also provides a more comfortable ride with an optional heated air ride seat, and ergonomically positioned controls that ensure a long day in the cab won't reduce productivity.
"The 521F wheel loader has new options such as joystick steering, a rear view camera and heated side mirrors that allow for precise control and visibility in tough conditions such as snow plowing and truck loading," Marringa said.
Case's floor-to-ceiling windows and improved lighting system continue to provide excellent visibility, from the cutting edge of a bucket to the tip of a fork.
More selection, larger attachments
The 521F wheel loader can handle heavier and much larger buckets thanks to the Case coupler system that pulls the attachment closer to the machine, providing significant breakout. The coupler is compatible with both JRB and ACS attachments. Also, the addition of over 250 new buckets, including light material buckets, rotary brooms and forks, and 4-in-1 buckets, means the 521F wheel loader offers even more solutions for a wide range of tasks. The offering includes Case SmartFitTM bucket tooth systems. The SmartFit system provides stronger, more durable teeth and adapters, and hammerless reusable locking pins to improve digging performance.
The Case 521F wheel loader features a 4.5-liter Tier 4 Interim-certified Case engine that delivers up to 131 gross hp (98 kW). Classified as a 2.1 yd3 (1.61 m3) wheel loader, the Case 521F has an operating weight of 22,856 lb (10 367 kg).
The standard model delivers 19,596 lb (8889 kg) of lift capacity and 16,735 lb (7591 kg) of bucket breakout force, with hinge pin height of 11 ft 10 in (3.61 m) for efficient truck- and hopper-loading.
Company info
Related products