GOMACO Introduced the GHP-2800 Slipform Paver with Powerful G+ Connect™ to the World Market at Bauma 2013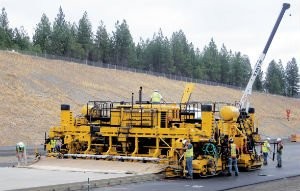 GOMACO featured a wide range of concrete paving equipment and new paving concepts at Bauma 2013, including G+ Connect™, a system of unlimited possibilities designed specifically for maximum paver performance and ultimate rideability. GOMACO also introduced their new T/C-5600 four-track texture/cure machine, and all the machines in the stand featured GOMACO's proprietary G+® operating system. All of this and more was on display in GOMACO's stand at Bauma 2013, in Munich, Germany.
The GHP-2800 with G+ Connect made its international debut at Bauma 2013. G+ Connect is GOMACO's new, proprietary CAN-based network on GOMACO products that allows fast, two-way communication between all accessories and the exclusive G+ controller. GOMACO's proprietary G+ Connect is a closed-loop control system for both the electronics and hydraulics on GOMACO pavers. The closed-loop system between the paver's valves and various sensors means unparalleled accuracy. The sensored feedback ensures tighter, faster, and more accurate machine corrections. G+ Connect utilizes a CAN (controller area network) network allowing all of the components of the system to easily communicate with each other for precision setup and paving. At the heart of G+ Connect is the G+ control system and GOMACO's new paving software.
The G+ control system has been programmed to operate in the world's major languages to accommodate the customer's choices. The operator can easily toggle between English and another language on the G+ screen while paving or troubleshooting. A "run" screen on the control panel illustrates the various aspects of the paver. It includes leg positioning, paving speed and percentage of drive, steering, travel information, grade information, deviation meters, and more. Newly designed icons and color graphics make it easy to understand and easy to identify the targeted functions. G+ now features a detailed fault history with a time stamp date and information to track when a fault occurred. G+ Connect allows all the components of a GOMACO paver to be easily interfaced. Simply "connect" the 3D stringless control system, IDBI, tie bar inserter (TBI), power transition adjustors (PTA), GOMACO Smoothness Indicator (GSI®) and more, and then pave the project with ease and accuracy. All of the software for the G+ control system has been designed in-house by GOMACO's own control specialists who understand concrete paving.
GOMACO also introduced its newest texture/cure machine, the T/C-5600 which features four crawler tracks, the exclusive G+® control system, and widths up to 17 meters. The all new four-track design with 90 degree turn capability allows easy width changes and easy transport, while G+ provides electronic-over-hydraulic steering and grade control for ultimate accuracy. The magic behind the easy width changes is the T/C-5600's new walking end car with cure tank. Frame sections can be added or removed by turning the machine's tracks 90 degrees and walking the end car with attached cure tank to the required width. Frame inserts are available in 1.2 meter, 2.4 meter, and 3.7 meter lengths. The frame design has the structural integrity to go up to 17 meters wide. The new T/C-5600 offers unparalleled tining depth accuracy with the all new GOMACO Tracer Texture Control. A sonic sensor traces the slab with the transverse travel of the tining broom. The tining depth is controlled by hydraulic height adjustment on the broom carriage. The two working together provide accurate tining depth, eliminate rail adjustments, and also eliminate the need for a power transition adjustor (PTA). Tracer Texture Control also works with transition adjustments required for longitudinal tining. With G+ Connect on-board, the new T/C-5600 can operate on stringline for steering and grade control or use other control methods available from the GOMACO sensor library, or 3D stringless control. G+ control allows easy changing of travel modes, switching from operational to transport.
The GOMACO 4400 barrier paver was built specifically for European-style barrier projects and was on display in the show stand. The machine's symmetrical design, All-Track Steering, Glide control console which slides from side-to-side, and minimal set-up changes for switching profiles from left-side to right-side, make the 4400 the ideal for barrier. It has the new GOMACO Barrier Hook-and-Go mold mounting system to quickly mount barrier molds up to 1000 millimeters tall on either side of the machine. A standard side mount is available for larger barrier. The GOMACO barrier mold itself is designed for proper vibration and consolidation of material, with the GOMACO-exclusive trailing stainless steel for superior finishing.
The versatile Commander III and GT-3600 were also featured in the GOMACO stand. They are capable of slipforming the unique profiles demanded around the world, including irrigation canals, waterways and channels, cattle barn flooring, European-style step barrier, pathways, flat slabs up to six meters wide, and more.
GOMACO Corporation (www.gomaco.com) is the worldwide leader in concrete construction equipment with headquarters in Ida Grove, Iowa, USA. GOMACO equipment will slipform concrete streets and highways, airport runways, curb and gutter, sidewalks and recreational trails, safety barrier, bridge parapet, and irrigation canals. Support equipment includes grade trimmers, concrete placers, concrete placer/spreaders, and texturing and curing machines. The company also offers equipment to finish flat slabs, bridges, and slopes. GOMACO will consult on unique concrete paving applications and equipment needs. Products are offered through a worldwide distributor network for local sales, parts and service expertise.
Company info
Related products