Shuttlelift Targets Energy Industry With Its Rubber-Tired, Mobile Gantry Cranes
Shuttlelift Inc.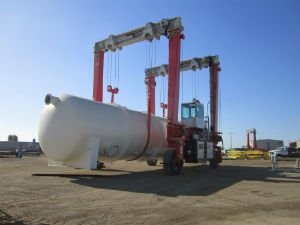 Shuttlelift, a longtime Wisconsin-based manufacturer of rubber-tired, mobile gantry cranes, has been steadily making inroads with the energy industry. According to Kurt Minten, Shuttlelift's director of industrial sales, operations managers are quickly learning that these cranes are ideally suited to the tasks at hand.
Traditionally, companies in the energy market have used conventional lifting methods such as boom cranes, reach stackers and forklifts. According to Minten, all of these methods have two major drawbacks: stability concerns, and the ability of the operator to understand a load chart. Stability accidents can be serious for the operator, and it can be costly to repair equipment and replace a damaged load.
"Every day, more and more companies are becoming aware of the benefits of using our cranes," he said. "That's especially true in the energy industry, which has such unique lifting challenges. When you use a gantry crane to lift a load, you're putting that weight directly under the frame of the crane," Minten explained. "The fact that the load hangs directly beneath the crane structure means that machine stability is not the issue that it can be with boom cranes, reach stackers and forklifts.
In the oil industry, mobile gantry cranes lift the tanks and vessels used in the refining process and in storage. A company can use the crane during the fabrication process, then use it to move the finished product to its storage location or loud out for shipment, whether it is inside or outside the facility. The crane also is ideal for handling refinery modules, the prefabricated subassemblies used when building an oil refinery.
"These applications typically require higher-duty cycles, so a Shuttlelift SB, DB or ISL crane would be a great choice," he added. "The ISL becomes the best choice if the ground conditions are unimproved or uneven."
In early 2012, Edmonton, Canada-based C-Tech Oilwell Technologies Inc. purchased a Shuttlelift SB 30 single-beam mobile gantry crane to address its heavy lifting needs. The innovative oil-field technology development, sales and services company had recently constructed a portable factory in the Middle East that would produce coiled sucker rod for oil-pumping facilities, and that's where the new SB 30 was headed.
"It's now being used to transport coiled sucker rod and to load the coils onto trucks and into storage areas," Minten said. "This single-beam, mobile gantry crane can manage loads up to 60,000 pounds, and it was easily shipped in two containers to its new location.
"Also in 2012, PCL Industrial Services, a group of independent construction companies that operates worldwide, purchased a Shuttlelift DB 70 double-beam mobile gantry crane and a SB 30 single-beam mobile gantry crane to support its operation in Bakersfield, California. The facility took delivery of the two machines in September of that year and put them into operation immediately.
PCL plays a large role in the oil refining industry, manufacturing large pressure vessels and tanks. Until the Shuttlelift purchase, it moved such vessels with boom cranes and forklifts, which was personnel- and time-intensive. Minten noted that the two new machines would give PCL much greater lifting capacity and flexibility, since the loads are both long and heavy. Kelly Blain, fabrication and engineering manager at PCL, agreed.
"Normally it would have taken us six and a half hours to lift and move a tank," Blain said. "With the new Shuttlelift DB70, it took us 13 minutes. And we are lifting everything with the new machines, not just tanks."
One global industry leader in natural gas compression and services was so pleased with the increased efficiency that it had with its first Shuttlelift gantry crane, it recently purchased two additional units. The Shuttlelift SL 100II and SL 150II will be delivered this fall. Shuttlelift also was awarded a contract with Caterpillar Global Mining Equipment LLC in Denison, Texas.
Mobile gantry cranes also quickly prove their worth in the natural gas industry, where picks involve 70- to 150-ton natural gas compression equipment. The duty cycle is not high, and the need to traverse the load from side to side is minimal, so Minten recommended the Shuttlelift SL series. He also noted that, in most cases, a custom spreader assembly can take gantry cranes to the next level.
"We work with the customer to discover all of their possible lifting scenarios and to determine the unique parameters, such as load dimensions, load weight, the number and location of pick points, and the center-of-gravity location," he explained. "Then we can design and manufacture a truly versatile machine, which will be exactly tailored to meet the multiple lifting needs of that company. Shuttlelift's custom spreader assemblies are the critical link between your gantry crane and the loads being lifted."
"Regardless of which industrial sector you're dealing with, if you decide to use a mobile gantry crane instead of the other types of equipment, you're going to find that your operation becomes safer and more efficient, which certainly has cost benefits as well," Minten said. "Just imagine what you can do with a custom spreader assembly and so many additional features, such as increased gradeability, all-wheel electronic steering, a two-speed hoist, a wireless remote control, 12-volt work and drive lights, a sound suppression kit and an electronic load indicator… you just might be looking at revolutionizing your business."
For more information about Shuttlelift and its full range of rubber-tired gantry cranes, visit the Shuttlelift booth (#679) at POWER-GEN International in Orlando, FL, e-mail the sales team at [email protected]