Mustang Introduces the Next Generation of RT Series Track Loaders in North America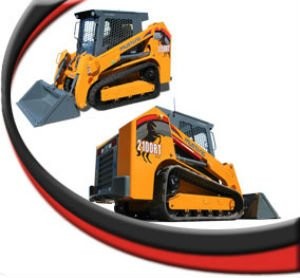 The new 1750 NXT2 and 2100RT NXT2 radial-lift track loaders offer Tier IV-certified Yanmar diesel engines, with 69.9 hp (52.1 kW) and 179 ft.-lbs. (242.7 Nm) of peak torque on the 1750RT NXT2 and 72 hp (53.7 kW) and 217 ft-lbs. (294 Nm) of peak torque on the 2100RT NXT2. These units provide industry-leading tractive effort through their unique power management system that efficiently transfers horsepower into productive performance. The exclusive IdealTraxTM Automatic Track Tensioning system extends track lift and simplifies track service and maintenance.
The rated operating capacity on the 1750RT NXT2 is 1,750 pounds (794 kg) and on the 2100RT NXT2 it is 2,100 pounds (953 kg). The RT Series Track loaders supply impressive lift heights as well, with a little over 10'6" (3251 mm) to pin height.
The next evolution in Mustang track loaders provides many industry-leading features and upgrades. The patented IdealTraxTM automatic track tensioning system eliminates the need for manual track tensioning and increases the life of the tracks, sprockets and bearings, due to the relief of track tension when the engine is shut off. This system saves the suggested 10-15 minute track tension checks that are recommended every 50 hours and the 30-45 minute tension readjustments required approximately every 300-400 hours depending on usage. By eliminating over-tensioning and releasing track tension when the engine is turned off, track life is extended by up to 15 percent.
The IdealTraxTM system makes servicing the carriage and track system simple as well. A switch in the rear of the machine relaxes the tension of the tracks, allowing removal in a matter of minutes with minimal tools. This allows track removal and track changes to be completed in the field. Competitive units require up to two hours to remove the tracks, requiring many tools. This process oftentimes must be completed in a service area.
Straight tracking is now standard on the 1750RT NXT2 and 2100RT NXT2 radial-lift track loaders. The operator can adjust tracking from the cab when it is necessary through normal operation, eliminating unnecessary servicing.
The RT Series radial-lift track loaders come equipped with Tier IV-certified Yanmar engines that incorporate DPF (diesel particulate filter) technology. This engine technology is environmentally sound and does not require fuel after-treatments, such as urea. These units meet emissions regulations and provide real time engine and regeneration information for an overview of system performance. With a maximum torque rating of 217 ft.-lbs. (294 Nm) on the 2100RT NXT2, the drive management system on these machines, utilizing Horsepower Management Technology and Drive Sensitivity Adjustment, efficiently transfers engine horsepower into effective performance.
A large operator's compartment with a cab-forward design provides excellent visibility to the front, the cutting edge, and the sides of the loader. Lowered rear towers provide excellent visibility to the rear. A side-folding restraint bar and armrests with multiple adjustments move up and down with the seat to enhance operator comfort and safety. New on the 1750RT NXT2 and 2100RT NXT2, the front of the armrests have been elevated approximately 8 degrees, adding two inches of added clearance between the seat and lap bars to provide even more room for the operator's legs and thighs. The joystick and hand/foot control towers are fully adjustable for further customization of the cab. A standard mechanical or optional air-ride suspension seats deliver outstanding comfort.
The optional pressurized sealed cab enclosure – with sound reduction material and a rearmounted air filter - provides a cleaner, quieter, and climate-controlled working environment.
The 1750RT NXT2 and 2100RT NXT2 track loaders come equipped with high-powered auxiliary hydraulics. Standard hydraulic flow is rated at 18.5 gpm (70 L/min) on the 1750RT NXT2 and 21.8 gpm (82.5 L/min) on the 2100RT NXT2. High flow is rated at 34 gpm (128.8 L/min) on the 1750RT NXT2 and 35.9 gpm (135.8 L/min) on the 2100RT NXT2 for excellent attachment performance. The electronic attachment control with 14-pin connector is now a factoryinstalled option that allows easy attachment performance and operation.
Excellent service access is achieved through the extra-wide rear door and engine hood. Service access is made even easier with the addition of a gas spring assist on the tiltable Level II ROPS structure. The gas spring assist requires only one service technician to raise the cab. The tiltable ROPS structure exposes hydraulic components for quick service and maintenance. New, steel hydraulic lines provide a cleaner design and eliminate hose tears and wearing.
The next evolution in RT Series track loaders from Mustang includes many other features such as the manual Quick-a-Tach™ or electronic Power-a-Tach™ attachment systems. Drive sensitivity adjustment offers five settings which adjust drive operation characteristics to suit user preference and application requirements. HydraGlide™ ride control cushions the operator for a smoother ride. The Hydraloc™ safety system ensures the operator is safely seated with the restraint bar down before the machine will operate.
All this is built into a dedicated track loader frame that allows these units to provide large rated operating capacities, exceptional tractive effort and impressive hydraulic performance.
APPLICATIONS
Mustang 1750RT NXT2 and 2100RT NXT2 track loaders are available in the United States and Canada. Due to their dedicated track loader frame, high lift heights and tractive effort, these updated, radial-lift track loaders are popular among contractors and landscapers. The IdealTrax™ Automatic Track Tensioning System, drive sensitivity adjustment and adjustable operator compartment appeal to the rental market. The RT series track loaders excel in environments where loading, dumping and stacking are common applications.

"The new RT175 GEN:2 and RT210 GEN:2 track loaders answer many of the requests from our track loader customer base," said Brian Rabe, Manager of Product Development. "We have built the next generation track loaders based on the important input of our users and dealers. In addition to providing Tier IV-certified engines, the RT series track loaders also provide IdealTraxTM automatic track tensioning, straight tracking, drive management technology, adjustments for operator comfort and many other improvements based on customer needs."
"The updated 1750RT NXT2 and 2100RT NXT2 track loaders were developed in response to the requests of our dealers and customer base," said Brian Rabe, Manager of Product Development. "Based on the important input of our users and dealers, this next evolution in Mustang track loaders takes the series to the next level. In addition to providing Tier IVcertified engines, the RT series track loaders provide IdealTraxTM automatic track tensioning, straight tracking, drive management technology, and adjustments for operator comfort."