Versatility on wheels - Terex® Wheeled Excavators available in North America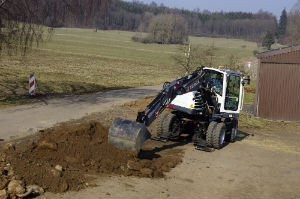 Terex® TW85 and TW110 wheeled excavators offer North American contractors power, productivity and mobility on jobsites where the versatility of a wheeled machine is required. As no additional transport equipment is needed to move these units between jobsites, these machines are ideal for urban applications where contractors want dedicated excavators for lifting, digging and laying pipes.
The Tier 4-compliant, 91-hp TW85 wheeled excavator boasts an operating weight of 18,519 lb, a maximum digging depth of 13 ft 5 in, a maximum reach of 24 ft 10 in and bucket capacities from 3.1 to 12.3 ft3. This model is equipped with a cooling system, featuring a reversible fan, to promote lower operating noise levels and reduced fuel consumption.
The 102-hp TW110 wheeled excavator has an operating weight of 24,229 lb, a maximum digging depth of 14 ft 2 in, a maximum reach of 27 ft 3 in and bucket capacities of 5.26 to 16.85 ft3.
Both Terex wheeled excavator models are designed around the operator. With the Terex Fingertip Control, the electric proportional control functions via a roller on the joystick. The short routes on the joystick result in higher precision and operator comfort when working. The dual-circuit hydraulics system with load-independent flow distribution (LUDV) allows all functions to be controlled simultaneously and independently of each other. And, load sensing technology reduces fuel consumption. The system has been sensitively tuned to control all functions at all engine speeds, independently of the load. Travelling up to 12 mph, operators can select between two-wheel or all-wheel steering, matching the machine to specific site conditions.
Also, the Terex TW85 and TW110 wheeled excavators come equipped with Terex Smart Control, an intelligent new operating system. When designing the new system, Terex carefully considered operator comfort, resulting in the introduction of a central control unit that makes it easier to adjust the machine to suit particular applications and operators. A new menu guide — which has the appearance of current smart phones makes it simple to navigate around the options and information available, while the 3.5-in display screen means it is easier to read machine and engine data at a glance.
Terex wheeled excavator models come equipped with a hydrostatic travel drive that delivers powerful performance with exceptional fuel economy. Operating in a closed circuit, the drive system works completely independent of the working hydraulics system. This allows the operator to simultaneously maneuver, swing and drive. Additionally, the travel drive functions as a braking system. The automatic idling system on these units improves fuel economy by reducing engine speed upon inactivity, reducing emissions and operating cost. The side-mounted engine on the Terex TW85 and TW110 excavators acts as a counterweight, helping to ensure the machines' stability when the off-set excavator arm is fully extended.
Boom options are available for the TW85 and TW110 excavators include standard and circular set-ups. The standard articulated arm is designed for high performance excavating, transportation and accurate placement of heavy loads in large working areas. The circular boom is ideal for inner city construction sites where space is constrained. A monobloc option is available for the TW85 model, offering a staggered boom set-up to give the excavator extra dumping height, range and digging depth.
Equipped with a Knickmatik® cylinder, the TW85 and TW110 excavators can work closely alongside walls and other existing infrastructures. The articulated joint on the booms of these Terex wheeled excavators allows each machine to be moved to either side at full digging depth. With an articulation angle up to 120 degrees in total, work can be carried out on the narrowest construction sites, alongside walls, hedgerows and on sloping terrain. The Knickmatic® cylinder is internally located, protecting against collision damage.
The chassis on the TW85 and TW110 models has been designed for strength and stability. Supported by the oscillating axle with an inclination angle of 14 degrees, Terex wheeled excavators remain stable on uneven ground. The optional floating function for the dozer blade makes it easier to level the ground and facilitates filling procedures and cleaning at the construction site. The undercarriage can be precisely configured to the jobsite requirements. Undercarriage options include support legs, a support blade and a front dozer blade.
A wide range of attachments are available for both the TW85 and TW110 wheeled excavator models, including standard, light-material, ditch-cleaning and swing buckets, as well as a hydraulic transverse cutting unit, ripper toot, hammer adapter, load hook and pallet forks. Quick attach systems are available in either mechanical or hydraulic.
Company info
Related products