BOLT LOCKS AVAILABLE FOR 2014 CHEVROLET SILVERADO AND GMC SIERRA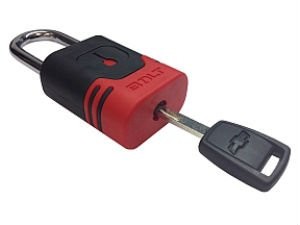 STRATTEC Security Corporation's BOLT Locks are now available for the 2014 Chevrolet Silverado and GMC Sierra. BOLT's patented technology adds security and convenience by only needing the truck ignition key to protect tools, gear and trailers.
BOLT locks feature Breakthrough One-Key Lock Technology, which permanently programs the lock to a vehicle's ignition key. When owners insert their ignition key into the BOLT Lock cylinder, spring-loaded plate tumblers move up and down to uniquely code the cylinder to that specific key. All BOLT products have a limited lifetime warranty.
"We are excited to announce the availability of our advanced technology for the 2014 Chevrolet Silverado and GMC Sierra," said BOLT Locks Sales Manager Erika Garcia. "We have further advanced our Breakthrough One-Key Lock Technology to work with higher-security center cut keys, which are difficult to duplicate."
With the 2014 Chevy or GMC pickup ignition key, users can access multiple BOLT locks, including the Padlock 2.0, Receiver Lock, Cable Lock and Toolbox Latch, making it practical for vehicle owners with numerous locks on their trucks and trailers.
"Additionally, the Silverado is great for towing and with our products vehicle owners are able to secure their hauler and equipment without adding more keys to an already overloaded key ring," Garcia said.
Available from BOLT Locks for the 2014 Chevrolet Silverado and GMC Sierra are:
* Padlock 2.0 (part number #7023537): A chrome plated 5/16-inch hardened steel, spring loaded shackle lock inside a crush-resistant shell. With a stronger double ball bearing locking mechanism, it is the perfect lock for commercial and industrial applications. The automotive grade stainless steel lock keeps out weather, ensuring a long usage life from corrosion resistance.
* 5/8-inch Receiver Lock (part number #7023582) and 1/2-inch Receiver Lock (part number #7023627): This hitch lock features a solid stainless steel pin which is durable to keep out elements and debris. The six-plate tumbler sidebar prevents picking and bumping, guaranteeing your gear will be kept safe on your vehicle when towing.
* Cable Lock (part number #7023719): This six-foot, 1/4-inch coiled cable with a 1/16-inch black vinyl coating is a flexible cable that's able to pin and loop over many items for added handiness and to keep items protected.
* Toolbox Latch Retrofit Kit (part number #7023547): To keep tools safe, BOLT offers this latch featuring a solid zinc core and an automotive-grade cylinder, to prevent theft and keeps out debris from the toolbox. The latch works with DeeZee(r), UWS Truck Accessories and other toolbox brands featuring a paddle-style handle.