Genie Upgrades Best-Selling Gth™-5519 Compact Telehandler With Tier 4 Final Engine And New Features
Terex Corporation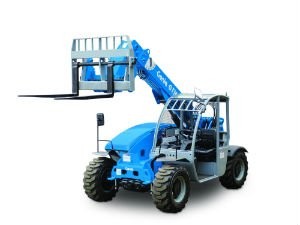 Taking its best-selling telehandler to the next level, Genie is pleased to introduce the newly-upgraded Genie® GTH™-5519 compact telehandler. The new Genie GTH-5519 is an ideal workhorse for today's jobsites. As a general purpose machine, it can fit into tight spaces, help unload trucks, and can efficiently carry tools such as augers and sweepers. The new unit was purposefully designed to offer a Tier 4 final engine to meet today's emission standards. Not only does the new machine comply with the latest standards, but also incorporates a number of other improvements offering benefits to customers.

"This newly updated telehandler is even simpler to use and service," said Chad Hislop, Terex Aerial Work Platforms Product Manager, telehandlers. "It is still the same machine our customers love, but small upgrades have made a great product even better. It is easy to drive and offers industry-leading load capacity for its size."
The telehandler's specs have slightly changed with the overall length reduced by 5 inches. Its wheelbase has expanded by 2 inches and the turning radius has decreased by 3 inches. The overall weight has increased by 540 lbs to 10,360 lbs. The telehandler's main design changes are reflected in the engine choice, cab design, serviceability and product quality.
The Deutz TD 2.9 L4 Tier 4 final engine replaces the Deutz D 2011 L4 Tier 4 interim engine. The engine is designed in such a way that it does not require a diesel particulate filter, only a diesel oxidation catalyst muffler. The power of the new engine is 55.4 kW (74 HP) at 2600 rpm compared to 50 kW (67 HP) at 2600 rpm of the original. If requested, the new machine will be available in Q1, 2014 with the same new engine but in Tier 3 configuration for countries outside the United States, such as in South America. The updated telehandler model will no longer offer a Perkins engine alternative.
The chassis includes an additional housing to allow access to the hydraulic connections and air bleeding valves. A redesign of the combined engine and hydraulic system radiator offers better cooling capability to the new engine and to the new hydrostatic transmission. Integrated to the radiator top block is the coolant expansion tank which now includes an electrical coolant low level sensor. The radiator includes an oil by-pass valve which simplifies installation of the hydraulic system.
The cabin interior has been completely upgraded. Now with a black dashboard, the new main instrumentation cluster offers an integrated display showing messages coming from the engine's electronic control unit. A new and more efficient air defroster and ventilation unit keeps the cabin comfortable. A soft pad has been added to the top of the right armrest and a plastic cover on the side door provides embedded pockets for convenient storage of manuals.
New improved fenders add to the durability of the machine and easy access to the engine compartment improves serviceability. "These upgrades help our rental customers bring the machine in from rent, do necessary maintenance and quickly get it back out to work," said Hislop.
Production of the new machine will begin immediately for the ANSI and CSA markets. The new unit will be available for South America beginning Q1, 2014.