New EDGE® 3-Pt. Rotary Brush Cutters
CE Attachments Inc.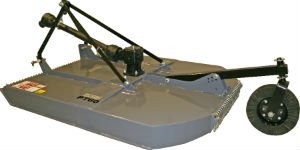 CEAttachments, Inc., a global supplier of attachments and accessories for compact equipment, announces the addition of all new EDGE 3-Pt. Rotary Brush Cutter attachments for compact utility tractors.
The new EDGE 3-Pt. Rotary Brush Cutters are designed to make short work of your land maintenance needs.
These cutters feature a beavertail style rear deck panel constructed of heavy duty 11-gauge steel that deflects cut material downward as it cuts. Two heavy-duty ½" thick by 4" wide blades cut brush and grass efficiently, and are mounted to a tough stump jumper pan.
The rear wheel assembly features three height adjustment settings to cut grass and brush between 1-11 inches from the ground.
EDGE Rotary Cutters also feature shear-bolt driveline protection, side skid shoes to help the deck glide along the ground, and front and rear chain shielding to help keep material under the deck while being cut.
These standard-duty Rotary Cutters require 20-40 hp and are available in 60" and 72" cutting widths, ready to attach to your CAT I/II compact utility tractor.
See the new EDGE 3-Pt. Rotary Brush Cutter Product Announcement, Spec Sheet and Video on our website at: News, as well as thousands of other attachments and accessories on the website at www.ceattachments.com or call our attachment experts toll free at 866-232-8224.