Doosan DX63 and DX85R excavators feature industry-leading performance
Doosan Infracore Construction Equipment America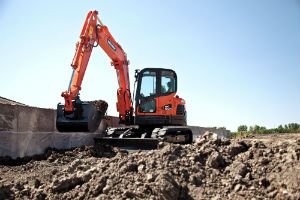 The new Tier 4-compliant Doosan DX63-3 and DX85R-3 excavators have been upgraded with a number of conveniences that provide operators with higher-precision controls, greater force and overall enhanced productivity. Comprehensive improvements to both the 6.3-metric-ton DX63-3 compact conventional tail swing excavator and the 8.5-metric-ton Doosan DX85R-3 reduced tail swing excavator include a blade float, multi-function joysticks, color instrumentation panel, Auto-Shift drive system and standard rubber tracks.
Offering more muscle than its predecessor, the DX63-3's horsepower has increased 13.5 percent to 59.4 to match the DX85R-3. Their Tier 4-compliant diesel engine features a high-pressure common-rail fuel injection system, diesel oxidation catalyst (DOC) and a diesel particulate filter (DPF). The DX63-3 has an operating weight of 13,779 pounds, while the DX85R-3 has an operating weight of 18,960 pounds and an overall width of 91 inches.
Performance-driven lifting and digging
Compared to the previous DX60R, the DX63-3's upper-structure is shifted rearward on the undercarriage to increase efficiency. The DX63-3's 11.6 inches of tail swing overhang provides best-in-class over-the-side lifting performance, without increasing the machine's overall weight. This additional tail swing also improves the DX63-3's slew performance when working on side slopes. It is engineered to dig to depths of 13 feet 6 inches. The DX63-3's hydraulic system delivers exceptional loaded cycle times. It offers 5,767 foot-pounds of arm force, while bucket force has increased to 9,731 foot-pounds.
In contrast, the DX85R-3's minimal 5.8 inches of tail overhang allows it to work in congested environments and tight spaces next to buildings or other obstructions and dig to depths of 15 feet 6 inches. The DX85R-3's bucket force has increased for improved productivity when excavating or trenching with an impressive 14,509 foot-pounds of breakout force — an 18 percent increase over its predecessor for class-leading productivity — and it also offers 8,069 foot-pounds of arm force.
Improved grading and leveling
Available for the first time on Doosan excavators in this size class, the blade float feature provides operators the versatility to smoothly grade, level or backfill material. This means operators can use just one machine to excavate and fill material, and the excavator's standard rubber track undercarriage minimizes disruption to existing surfaces with its ability to float across dirt. The DX63-3's blade height has been increased to 16.1 inches – a 21 percent increase compared to the previous DX60R model.
Both new Doosan excavators come standard with Auto-Shift travel, which shifts the excavator out of high range or low range and back automatically. Operators receive superb travel performance without having to manually downshift. Auto-Shift increases travel performance on demand, allowing operators to focus on the direction and speed.
Multi-function controls
Both the DX63-3 and DX85R-3 excavators incorporate fingertip boom swing and auxiliary hydraulics functions. This not only improves multi-function capabilities, but also gives the operator more floor space. Independent boom swing control on the joysticks allows operators to more easily position the work group for offset digging. Selectable auxiliary flow rates and the detent (continuous flow) mode allow for more precise attachment performance.
A new multi-language, deluxe color panel resembles the instrumentation on Doosan's larger crawler excavators, and provides a quick visual of function machine vitals. The main screen displays fuel level, coolant temperature, day/time, throttle position and engine rpm. Operators can select auxiliary hydraulic flow modes and rates from the panel. For increased security, an integrated password protection system may be used to help prevent theft.
Uptime protection
New boom cylinder guards provide both excavators improved uptime protection, guarding the boom cylinder when the excavator is digging. Integrated into the undercarriage are four convenient tie-down points to simplify trailer loading for transport. Extended grease intervals on the machines' work groups minimize maintenance requirements.
The DX63-3 and DX85R-3 — like all new Doosan machines — are covered by an innovative 48-Hour Parts Guarantee. The program guarantees that if a "machine-debilitating" part is needed, Doosan will deliver it directly to the end user within two business days or Doosan will pay for a replacement machine rental. The 48-Hour-Parts-Guarantee is subject to carrier delivery restrictions and/or governmental agency delays.