Modern classics - the Volvo L30G and L35G Wheel Loaders
Volvo Construction Equipment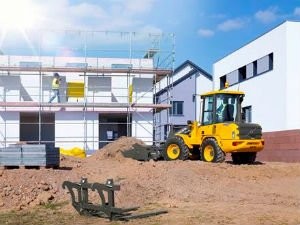 It's not easy improving on machines as popular as the best-selling Volvo L30 and L35 compact wheel loaders, but in their new G-Series guise, these models are more powerful and fuel efficient than ever before.
The updated L30G and L35G wheel loaders from Volvo Construction Equipment may be compact — making them ideal for tight turns and work in restricted areas — but they possess the versatility and breakout and lifting forces expected from larger machines. And, both models feature powerful, new, fuel-efficient Volvo engines that meet the demanding emissions requirements of Tier 4 Final regulations.
The strong, silent types
The G-Series' Volvo Care Cab is an industry leader — and it isn't hard to see why. The spacious interior offers low levels of noise and vibration for a safer, more comfortable operating experience — which leads to lower fatigue levels and easy operating. The ergonomic controls are intuitively located and fall easily to hand, while a fully adjustable seat enhances comfort. Visibility is second to none with a wide, curved windshield and compact engine cover.
For tough job sites, the L30G and L35G include an exclusive portal axle design, which protects the propeller shaft and axles from damage by rocks or other obstacles, providing operators peace of mind the machines' drivetrain is protected against the rigors of rugged terrain.
The G-Series' articulating oscillating joint provides a comfortable operating experience, even as the machine passes over uneven ground. Large bushings, rubber stops and surface-hardened pins improve the machines' reliability and durability, and decrease shock feedback to the operator. Tire wear and the risk of skidding are also reduced.
When a job requires maximum traction, Volvo differential locks can be engaged via a switch in the cab, ensuring 100 percent of power is distributed to each of the wheels, reducing tire slippage on soft ground or slippery surfaces. One of the best differential lock systems in the industry — it decreases wear on tires and reduces the risk of skid marks.
Peak performance
The G-Series includes an all-new Tier 4 Final / Stage IIIB-compliant Volvo engine (75 hp / 55.4 kW) that's electronically controlled for better fuel efficiency. With the engine perfectly matched to the drivetrain, the L30G and L35G may be small in stature, but they possess the power necessary to take on heavy-duty jobs.
The G-Series' dual hydraulics system means never having to exchange lifting power for steering ability. Because two largely independent hydraulic systems work together simultaneously, lifting doesn't have to take a backseat while the machine is on the move.
The L30G and L35G bucket and linkage systems are strong and durable for efficient loading and lifting. The bucket delivers an excellent rollback angle to ensure material isn't lost when transporting or lifting. The standard Z-bar linkage is field-tested and proven to offer high breakout force and fast cycle times, as well as excellent parallel movement with the bucket or pallet forks. Breakout force, rim pull and lifting forces work in perfect harmony for maximum productivity. A hydraulic quick coupler integrated into the lift arm makes changing attachments — like forks or buckets — quick and easy.
Maintenance should not be time consuming. With easy access to service points — including fuel, oil, air and hydraulic filters, battery, radiator, oil dipstick and hydraulic oil level gauges — maintenance is faster and easier, so less time is spent servicing your machine, and more time can be spent on the job at hand.
Company info
Related products