Alternative to hydraulic breakers available in Canada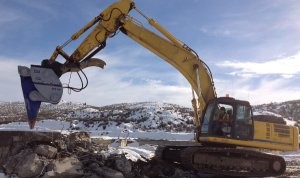 The Xcentric Ripper is a multi-purpose excavation and demolition tool that has several applications in recycling and waste, including tearing through slag and hot slag in steel mills and garbage incinerators.
"While most of our Canadian customers have used it for demolition and excavation to date, our European counterparts have been using it for recycling applications since it was developed in 2009," explains Carly Wethersett, marketing director at ShearForce Equipment, the recently appointed, exclusive Canadian distributor of the attachment.
According to ShearForce, in demolition applications, the Xcentric Ripper offers two to five times more production than a hydraulic hammer, when it comes to ripping through concrete, with or without rebar present. The Xcentric Ripper attachment is entirely self-contained in an airtight enclosure, which means less noise than the average hydraulic breaker (it's operating noise level is about on-par with a standard bucket). The enclosure also protects against dust, dirt, earth and moisture, making the Ripper virtually maintenance-free.
The secret of the Xcentric Ripper is in the attachment's patented 'Impact Energy Accumulation Technology' explains Wethersett.
"The technology it uses is twofold," she explains, "it's impaction, like a typical hydraulic hammer would use, but it also uses vibration."