Hyundai Construction Equipment releases new compact radius Interim Tier 4 excavators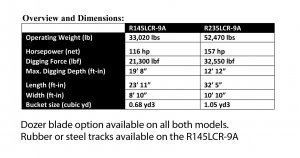 Hyundai Construction Equipment Americas, Inc. is pleased to announce the addition of two new compact radius crawler excavators: the R145LCR-9A and R235LCR-9A. The new compact radius excavators provide operators with enhanced features and benefits compared to prior models including a certified Interim Tier 4 engine upgrade, improved hydraulics, increased operator comfort and added durability.
These excavators are ideal for handling small to mid-size excavating projects, demolition and road and utility work in confined spaces such as in urban areas. The R145LCR-9A and R235LCR-9A are part of Hyundai's new line of 9A series excavators, all of which meet Tier 4 Interim standards.

The R145LCR-9A and R235LCR-9A boast operating weights of 33,020 lbs and 52,470 lbs and offer digging forces of 12,300 lbf and 32,550 lbf, respectively.

A low emission, low noise, 116 hp Perkins 1204E Interim Tier 4/Stage IIIB engine powers the R145LCR-9A while the R235LCR-9A uses a powerful yet fuel efficient eco-friendly 157 hp Cummins QSB6.7 Interim Tier 4/Stage IIIB engine.

Both engines allow operators to choose between three unique engine modes – Power, Standard and Economy – which enable the machine to switch between full power and reduced fuel consumption according to the user's preference.
Innovative hydraulic system technologies make the 9A series excavators fast, smooth and easy to control. Both the R145LCR-9A and R235LCR-9A come with a redesigned hydraulic system which provides the operator with super fine touch and improved controllability.

Hyundai has improved the structure strength of the 9A series cabs with stronger but slimmer tubing for optimum safety and visibility. High-strength steel provides a more durable upper and lower frame. In addition, the enlarged cab comes with a see-through upper skylight, a larger, one-piece, right-side glass, safety glass windows on all sides that won't scratch or fade, a closeable sunshade and a reduced front window seam – all features that work together to improve visibility.

In addition to enhanced safety and visibility, operators will enjoy the ability to fully customize the cab of the compact radius excavators to best fit their needs. Operators can easily adjust the seat, console and armrest settings. Hyundai has integrated the seat with the console to reduce operator fatigue, and adjustable air-suspension comes standard. Sleek styling has been applied to the ergonomic joysticks, which are now height-adjustable.

Hyundai's engineers made sure that the 9A cabs include many amenities that decrease stress and increase comfort. Some of these features and benefits include heated seats, additional space, enhanced climate control system, advanced audio system with USB player, AM/FM stereo, and MP3 capabilities. A Smart Key System is offered as an optional add-on, which allows the operator to start the ignition with the push of a button.

The R145LCR-9A and R235LCR-9A come standard with a newly designed, color LCD display cluster with easy to read digital gauges for monitoring temperature, fuel levels and other maintenance items. The simplified design allows the operator to easily adjust engine power and work modes, set boom speed and arm regeneration, view what is happening behind them with the optional rear-view camera, and protect the machine with the new password anti-theft system.

Like all of Hyundai's 9A series equipment, the R145LCR-9A and R235LCR-9A feature the Hi-mate Remote Management System, which allows operators and dealer service personnel to access a machine's vital service and diagnostic information from anywhere with internet access. Hi-mate users can remotely monitor daily reports outlining a machine's location, working hours, fuel consumption and any periodical maintenance needed, drastically reducing downtime and saving the owner time and money.

For added durability, Hyundai's 9A-series excavators offer bushings designed for extended lube intervals of 250 hours and polymer shims to resist wear and reduce noise. Extended-life hydraulic filters (1,000 hours), long-life hydraulic oil (5,000 hours), more efficient cooling and integrated pre-heating systems help to extend service intervals thus reducing operating costs and machine down time.