THE NEW TEREX® FUCHS MHL350 E HD LOG HANDLER
PURPOSE-BUILT DESIGN FOR LOG HANDLING AND TRAILER TOWING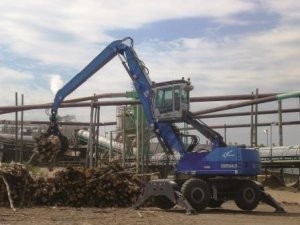 The new Terex® Fuchs MHL350 E HD log handler boasts a purpose-built undercarriage design and reach configuration to increase log handling efficiencies at the mill yard and in other loading/unload applications. The rugged undercarriage includes a broad outrigger base of 17.4 ft (5.3 m) – 10 percent wider than the standard MHL350 E – for excellent stability when loading and unloading trailers or charging the infeed deck.
Standard independently controllable 4-point stabilizers deliver exceptional machine support on uneven terrain and broad 16.9- by 23-in (430- by 600-mm) stabilizer plates spread machine load over a large area. Large pneumatic tires provide exceptional flotation and traction, even when operating in marginal ground conditions. The front axle offers a 30° steering angle for efficient maneuvering in tight spaces. The handler's two-speed powershift hydraulic transmission with four-wheel drive and rigid rear axle deliver the power and torque required for towing fully loaded log trailers. Greater than 24-in (609.6-mm) ground clearance significantly reduces the risk of damaging undercarriage components when crossing obstacles.
The new MHL350 E HD's 23.9-ft (7.3-m) boom and 20.3-ft (6.7-m) dipperstick combination offers a 45.9-ft (14-m) reach configured specifically for high volume log handling. The powerful log handler is capable of lifting up to a 15,600-lb (7,076-kg) load at a 30-ft (9.1-m) reach, and a variety of pulpwood and combination grapples are available to tailor the MHL350 E HD to meet specific log handling requirements. Attachment live-heel operation is conveniently controlled via a foot pedal inside the operator's cabin.
The fuel efficient turbocharged diesel engine of the MHL350 E HD uses Exhaust Gas Recirculation (EGR) technology to meet Tier 4i (Stage III B) emissions standards. The handler boasts a 214-hp (160-kW) engine that offers 8% more power output than the D Series, while, at same time, lowers specific fuel consumption by up to 11%. Regeneration of the diesel particulate filter occurs automatically, without impacting machine performance, and the regeneration process can be temporarily interrupted, if necessary, by pressing an indicator button located on the control panel. Engine start/stop is push-button controlled to properly manage engine shutdown while under critical load conditions or during DPF regeneration.
A high-performance main hydraulic pump increases pump capacity by 3% over the D Series. Combined with improved engine performance, the increased oil flow provides greater handling efficiency of the MHL350 E HD. Both the engine and hydraulic system incorporate separate large surface area coolers protected by vented panels that provide increased airflow. The engine's hydraulically powered fan is designed to automatically adjust airflow, based on operating conditions, to provide the right level of cooling, and standard reversible-direction fans help to clear the coolers of debris during operation.
Controls inside the spacious cab have been updated to improve operator efficiency and comfort. At 23% larger than previous designs, the Wide Video Graphics Array (WVGA) display includes a high resolution and high contrast screen with an antiglare shield and scratch-resistant coating. Intuitive controls with 12 buttons reserved for frequently used functions make for a short learning curve of MHL350 E HD operation, and an ergonomic multifunction button delivers effortless fingertip navigation through the display.
Hydraulically height-adjustable, the handler's cab offers a maximum eye-level elevation of up to 18.4 ft (5.6 m) above ground level, improving the efficiency of trailer loading/unloading and infeed deck charging. Its cushioned cab elevation system absorbs shocks and jolts, increasing operator comfort.
Machine filters and central lubrication system are accessed via a stow-away ladder leading to the machine's centrally located service platform. The handler's fuel prefilter is mounted on top of the fuel tank for easier servicing. The vented panels covering the engine and hydraulic system coolers are lockable and readily accessed from ground level. Additional CAN Bus connections found on the MHL350 E HD expand diagnostic capabilities, so service technicians can identify and address underlying issues.
The Terex Fuchs MHL350 E HD is equipped with a standard rear-view camera system. Color video of the area behind the machine is visible on the WVGA display, providing an expanded view of the work area around the machine. The handler's contoured counterweight protects the camera from damage during operation.
For more information about the Terex® Fuchs material handler line, visit www.terex.com/construction