New Miller Welder/Generators Feature Reduced Fuel Use and Sound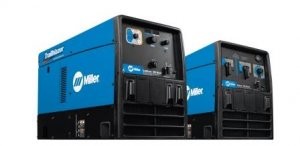 Top choices in their class, the new Trailblazer® 325 Diesel and Bobcat™ 250 Diesel welder/generators by Miller Electric Mfg. Co. — both fully compliant with all applicable EPA Tier 4 Final emissions regulations — deliver multiprocess welding capabilities and smooth generator power, with innovative technologies designed for the professional welder.

The Trailblazer 325 Diesel welder/generators are designed to extend runtimes by 55 percent, reduce fuel use by as much as 25 percent, and reduce noise by 40 percent for a safer, more productive jobsite. A redesigned case — now seven inches shorter and up to 80 pounds lighter — provides a smaller footprint, allowing a work truck to carry more equipment and heavier payloads.
"We designed the Trailblazer 325 Diesel to be the most fuel-efficient diesel welder/generator in its size class without sacrificing any power or performance," said John Van Meter, product manager, Miller Electric Mfg. Co. "These advancements, along with design changes to the way the machine is built, allow for extremely quiet operation and a noticeably smaller and lighter footprint for truck integration. By adding the optional Excel™ power, customers will experience even more dramatic fuel savings and longer runtimes."
Two industry-exclusive technologies — both standard features— anchor the new Trailblazer 325 Diesel welder/generators: Smart-Cor™ technology and Auto-Speed™ technology.
Smart-Cor technology provides independent weld and generator power, ensuring no interaction between the welding arc and jobsite tools. Auto-Speed technology automatically adjusts the engine speed to run at lower speeds depending on the total power needed. For example, under low loads — such as welding with a 1/8-inch stick electrode — the engine will run at idle speed (2400 RPM). This technology lowers fuel use and cost, and greatly reduces noise levels in the work area. The recommended Miller-exclusive Excel™ power option further improves fuel efficiency and sound reduction, and allows users to run most jobsite tools at idle speed (2,400 rpm) — saving significant amounts of fuel and reducing noise.
The Trailblazer 325 Diesel welder/generators are Stick, MIG, Flux-Cored and DC TIG-capable. The machines also offer carbon arc gouging capabilities and the generators are able to power Spectrum® plasma cutters for additional cutting and gouging flexibility.
For those in the construction industry who do not require the higher amperage output capabilities, the Bobcat 250 Diesel with versatile AC and DC weld output is well suited for mobile maintenance trucks and now features a smaller and lighter case, freeing up space in a work truck and allowing it to carry heavier payloads. Its Accu-Rated™ 11,000-watt generator includes a revolutionary 10-degree skewed rotor design(also featured in the Trailblazer Diesel welder/generators) for smoother generator power.
For more information, visit Miller's website at www.MillerWelds.com, call 1-800-4-A-Miller (800-426-4553), email [email protected], fax 877-327-8132, or write to Miller Electric Mfg. Co., P.O. Box 100, Lithonia, GA 30058.