JLG Mobile Analyzer now available
Equipment diagnostics tool that offers remote access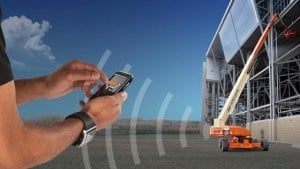 Introducing the JLG Mobile Analyzer, a diagnostics tool designed to give technicians remote access to program, troubleshoot, calibrate, or customize JLG equipment performance.
The JLG Mobile Analyzer, available in multiple languages, is a Wi-Fi enabled evolution of the JLG Analyzer Kit.
How it works
Users download the free JLG Mobile Analyzer App to a mobile phone or tablet.
The app syncs with the JLG Mobile Wireless Access Module, which can be ordered through Online Express or a JLG representative.
The wireless module plugs into a port on a JLG machine, and the app receives and displays a detailed diagnostic read-out from up to 150 feet away. The JLG Mobile Analyzer is ideal for use in inclement weather, enabling technicians to work from a truck or under protective cover.
Advantages
• Allows for an extended operator range of up to 150 ft
• Compatible with Apple iOS 5.0 and up, plus Android API 8 and up
• Available in multiple languages, with additional languages added in a future update
• Works with JLG products that are equipped with Advanced Design Electronics (ADE)
• The JLG Wireless Access Module is interchangeable between machines (Note: it can only be connected to one mobile device at a time)
• Displays full description read-outs instead of scrolling text
• Analyzer training is included as part of all JLG factory training