National Crane set for ICUEE 2013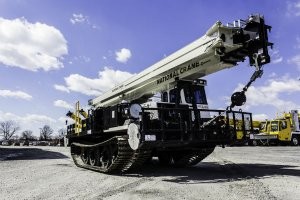 Manitowoc will exhibit its National Crane product line at the International Construction & Utility Equipment Exposition, ICUEE, in Louisville, Kentucky, from Oct. 1-3, 2013. The National Crane booth will be located at Outdoor Lot N, #N2021.
National Crane will be exhibiting two cranes: The National Crane NBT45 boom truck and the NBT33-TU track unit crane. These cranes are valuable tools in the construction and utility industries, as they are mobile both on and off the job site, travel well on highways with little need for permitting, and require very little setup and tear down time.
Brian Peretin, vice president of National Crane, said ICUEE is a great opportunity for National Crane to show its ongoing commitment to the utilities industry and for the company to interact with customers.
"As leaders in the boom truck market, National Crane owes a significant part of its success to the utilities industry," he said. "ICUEE gives us the opportunity to present the most cutting-edge boom truck technologies to this important group of customers."
The National crane NBT45 features a 45 USt capacity and a 161 ft, five-section boom, the longest in its size range. The crane is also available with boom lengths of 103 ft, 127 ft and 142 ft. The NBT33-TU is similar to National Crane's 1400A boom truck, but is mounted on tracks for the navigation of rugged terrain. It features a five-section 127 ft boom, 33 USt capacity and Vision cab.
Also featured on the booth will be the National Crane Truck Modification Center, which was developed and launched last year. This one-stop shop for boom truck customization has reinvented the boom truck modification process for National Crane customers.
Peretin is excited to showcase this service at the ICUEE show because he says that "The Modification Center really takes the guesswork out of modifying boom trucks. We can get involved so much earlier in the process, which enables us to leverage our decades of experience and develop the optimal boom truck solutions for customers. They can bring us a goal or a challenge, and our engineers can come up with solutions long before the machines are purchased or the wrenches start to turn."