Mobile Shiploader to significantly reduce vessel load time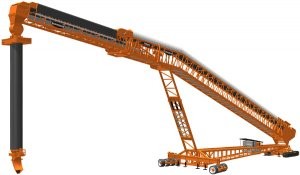 Superior Industries, North America's only combination manufacturer of conveyor systems and their related components, recently launched its latest material handling solution to help ship loading applications reduce downtime at ports and terminals. Called the Stingray™ Mobile Shiploader, the portable unit greatly reduces downtime by trimming multiple hatches from one feed point, and is ideal for use with any dry bulk feedstock, including aggregates, biomass, cement, coal, fertilizer, grain, ore, salt, sulphur and wood.
"Repositioning a ship loader's feed point or loading hopper cuts off the material flow from loader to ship, resulting in costly downtime," says Vice President of Engineering Bob Domnick. "Our goal is to reduce the number of times a feed point needs to be moved and then speed the time it takes when relocation is required."
Telescopic Conveyor
Superior Industries first introduced telescopic conveyor technology into its products back in 1997. Since then, the 40-year-old company has manufactured almost 1,000 conveyors equipped with the technology. In marine terminal applications, the Stingray Mobile Shiploader's telescopic conveyor allows the equipment to extend an additional 30%. This means the new shiploader reaches out to multiple hatches from the same feed point. In addition, while positioned over a hatch, extension and retraction of the telescopic conveyor means fully trimmed hatches.
"We know of one client who compared a unit without this conveyor technology to one of our telescopic units," says Domnick. "According to their load sequence, our telescopic conveyor reduced the amount of moves required to load their vessel from 35 to seven."
Increased Mobility
In addition, Superior says a commitment to conveyor mobility is another variable for accelerated load times. Each Stingray Mobile Shiploader is manufactured with expanded mobility packages at both the feed-point or tail of the conveyor and at its radial or drive tires. Often manufactured with track technology, portability at the shiploader's feed-point allows for rapid relocation from hold-to-hold and simplifies movement on, off and throughout a terminal or port. In addition to the 360-degree rotation at the tail, the conveyor's drive tires are equipped to move inline, transversely and radially.
"We have invested a lot of time into products that focus on conveyor mobility," says Domnick. "In fact, our founder started this business after seeing a need for better portable conveying equipment. Since then, we have manufactured more than 5,000 mobile conveyors."
Cambered Profile
New to Superior, says the company, is a camber or slight arch shape to the conveyor's structure. This allows the Stingray Mobile Shiploader to maintain a tight clearance between the conveyor and the deck of the vessel. This design benefits owners because it reduces the shiploader's drop height to eliminate dust, preserve material integrity and reduce the length of discharge chutes, a costly component.
Marine Duty
Lastly, Superior says it is intentionally armed with a massive engineering department to work closely with clients on custom, individual applications and specifications. Common to any port or terminal client, local environment plays a crucial role in how each shiploader is individually designed. Common components and conveyor enhancements include galvanized or epoxy finishes, belt covers, dust suppression/extraction systems, onboard power, remote controls, spillage defense, telescopic chutes, hoppers and a multitude of other options.
Superior's experience includes engineering and manufacturing work of some of the most complexly engineered conveyors, including the world's highest capacity mobile telescopic radial travel conveyor. The 72-inch (1800mm) wide by 190-foot (58m) long unit moves 5,000 tons per hour (TPH) at the Port of Tampa in Tampa, Florida, U.S.A. The first Stingray Mobile Shiploader is designed for Panamax vessels, but can be altered to accommodate other dimensions of dry bulk vessels and barges.
From its headquarters in Morris, Minnesota, Superior Industries supplies the market with stackers, transfer conveyors and stationary systems plus idlers, pulleys and accessories to lower operating costs and increase production. The company manufactures from two additional plants in Arizona and Georgia.