Lokotrack ST2.4 mobile screen: High in capacity, low in fuel consumption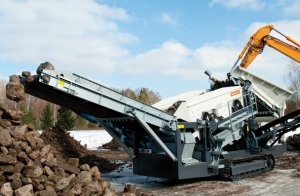 Metso's Lokotrack ST2.4 combines high screening capacity with exceptionally low fuel consumption. This user friendly, economical combination has been achieved thanks to the optimized hydraulic design and state-of-the-art control system.
Lokotrack ST2.4 is well suited for accurate classifying of any feed materials: from pre-screening of the coarsest gravel to fine classifying and processing of natural sands or any demanding recycling materials. With the efficient two-stage screen, you can produce three clean end product sizes in one process.
The outstanding performance of the ST2.4 is ensured through smart material flow and the use of first-class components. With its low fuel consumption and operating costs, the Lokotrack ST2.4 delivers the lowest cost per ton of any mobile screen in its size class.
The Lokotrack ST2.4 mobile screen is one of the new products on display at Metso's 2012 New Product Expo, October 24-25, in Columbia, South Carolina, USA.
More uptime with quick set-up
"We believe that the Lokotrack ST2.4 sets a new standard for real mobility. Our new screen is thoroughly designed for fast setup from trailer to screening. All the conveyors are folded hydraulically and secured mechanically. You just set the screen angle, lift the feeder up and start screening," says Kimmo Anttila, Metso Product Manager for mobile screens.
"Quick set-up helps contractors to add real screening uptime, and thus helps make even small jobs more economical. This, along with low operating costs and easy, simple service make the ST2.4 a real user-friendly tool," Anttila adds.
Hydraulic screen opening
A good example of the easy servicing of Lokotrack ST2.4 is the hydraulic opening of the screen. This function makes any service – from cleaning to screen media change – easier and also a lot safer.
To meet the specific needs of your screening application, the Lokotrack ST2.4 can be equipped with a variety of screen media, from steel meshes to high-performance Trellex rubber and polyurethane materials.
With available options, the ST2.4 can also be easily equipped with features like a vibrating apron feeder with grizzlies or finger bars. Other options include an apron feeder, magnetic separator for recycling, and remote radio controls. Spare parts and service are available through Metso's worldwide network and authorized distributors.
Lokotrack ST2.4 screen box size is 5' x 12' (3.6 x 1.5 m). It features a 101.9 HP (74.9 kW) Cat C4.4 diesel engine. ST2.4 transport dimensions are: length 46'7" (14.2 m), height 11'2" (3.4 m), width 9'10" (2.9 m) and weight (with belt feeder) 51,800 lb 23,500 kg.
Company info
Related products