Ditch Witch SK750 & SK755 compact tool carriers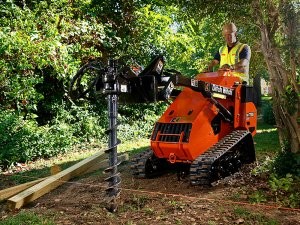 Ditch Witch SK750 and SK755 tool carriers replace the SK650 model and are engineered to bring several important upgrades to the market.
Responding to customer input, Ditch Witch says they incorporated multiple design improvements into the new models, noticeably increasing productivity, operator comfort and performance in tough conditions.
Customers can choose between two efficient Kubota diesel engines, with either 25 hp or 32.8 hp. Both deliver a large amount of power to the attachment and both accept more than 70 attachments for performing multiple jobs on the same jobsite in less time.
The new SK models offer up to 800 pounds of lift capacity and an 81-inch lift height for better loading capabilities. Maneuverability around the jobsite has also been improved with 30 percent more center ground clearance and an innovative high-drive track system featuring bolt-on sprockets, wide track rollers and replaceable spindles. The new system makes it easy to convert from a narrow to wide track stance, and it allows operators to rotate tracks and achieve up to 40 percent longer track life.
SK operators will also notice several improvements in comfort. An ergonomic operator's station features easy-to-use controls with an optional single-level joystick. A two-way auxiliary control foot pedal for the attachment frees up the user's hands to control depth and ground speed. Most noticeably, the operator platform has been enlarged by a full 50 percent, providing more room to work and get positioned comfortably.
With numerous upgrades and design improvements, the Ditch Witch SK750 and SK755 raise the bar on an already impressive product, offering big performance in a compact design.