Doosan DL250 wheel loader provides increased horsepower and performance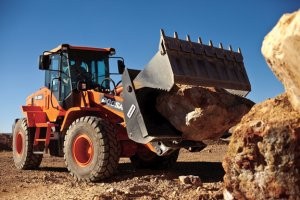 The upgraded interim Tier 4-compliant (iT4) DL250-3 offers several improvements that enhance its productivity and comfort for moving materials in infrastructure projects, as well as building, site development and livestock production applications. The new DL250-3 does more than meet the iT4 regulations, as its improvements have been designed to result in increased performance and greater reliability.
More power and greater fuel efficiency
The 3.7-cubic-yard DL250-3 has been reintroduced as a 172-horsepower iT4 wheel loader – up from 163 horsepower in its previous design. It is engineered with a breakout force of 27,120 pounds, a full-turn tipping capacity of 20,680 pounds and a dump height of 9 feet 2 inches.
For those requiring additional dumping capabilities, the DL250-3 is also available in a high-lift configuration, extending the dump height 18 inches above the standard DL250, to 10 feet 8 inches.
This wheel loader's new auto-idle feature provides additional noise reduction and fuel savings by reducing the working idle of the wheel loader from 950 rpm to a standby idle setting of 750 rpm when the machine is inactive for a short period of time.
Increased performance
Designed with improved lifting performance, the DL250-3 offers operators the ability to set upper and lower limits for both the lift arm and bucket stop positions from inside the cab. Better lifting capabilities improve cycle times in digging and loading applications, while providing better control of the lift arm and bucket positions. An optional fourth spool control valve provides operators the capability to utilize an attachment that requires an additional hydraulic function, e.g., some snowblowers and snow blades.
To keep the wheel loader running at optimal performance in dirty and dusty conditions, the DL250-3 incorporates a new automatic-reversing cooling fan. The operator can manually reverse the fan via a switch, or set it to automatically reverse on a preset time frame. Each time the fan reverses, it will run in reverse for a few minutes to clean the cooling system. This results in longer working hours and shorter maintenance time to clean the cooling system.
Operators can also expect upgraded driving performance options. As an alternative to the standard limited slip differential, the DL250-3 offers an optional hydraulic locking front differential. Based on ground conditions, the operator can choose to lock the differential manually with a floor-mounted foot switch, or allow the machine to automatically engage the system. This provides increased driving power when one wheel spins or loses traction and improves machine performance when navigating tough terrain.
This Doosan wheel loader is equipped with 6-cylinder DL06 diesel engine that has been optimized for use with cooled exhaust gas recirculation (CEGR) system, a diesel oxidation catalyst (DOC) and a diesel particulate filter (DPF). Engines with this configuration are optimized to reduce nitrogen oxides (NOX) and after-treatment is needed to reduce particulate matter, to comply with iT4 emission regulations.
The 360-cubic-inch engine features a high-pressure common-rail (HPCR) design with direct fuel injection, electronic control and four valves per cylinder. The HPCR system increases the efficiency of fuel delivery via increased pressure. The increased pressure allows the injector to inject a finer mist into the engine, which results in a more efficient combustion that in turn produces more torque and improved fuel economy, less noise, lower operating costs and cleaner exhaust.
Reliability
Service intervals on the front lift arm pins have increased fivefold, from 50 to 250 hours, reducing operating costs and downtime. Tilt cylinder hydraulic hoses have been rerouted for improved hose reliability, better hose movement and improved visibility to the attachment.
Enhanced comfort
Interior cabin improvements also include a number of multi-function display panel upgrades on a centralized monitor that allows the operator to view comprehensive machine system information. The centralized monitor displays critical machine information – such as engine rpm, engine coolant temperature, fuel level, machine warnings, time and the transmission selected gear. A key exterior cabin improvement is lowered front side glass, providing improved visibility of operations. A new door threshold makes getting in and out of Doosan wheel loaders – and cleaning the inside of the cab – much easier.
The DL250-3 – like every new Doosan machine – is covered by an innovative 48 hour parts guarantee. The program guarantees that if a "machine-debilitating" part is needed, Doosan will deliver it directly to the end user within two business days or Doosan will pay for a replacement machine rental. The 48 Hour Parts Guarantee is subject to carrier delivery restrictions and/or governmental agency delays.