CASE 621F/721F Waste Handlers
New loaders offer waste guarding, clean SCR emissions technology, 30% fuel savings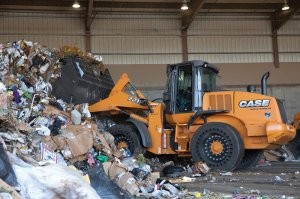 CASE Construction Equipment announces its 621F and 721F wheel loader Waste Handling models, with factory-installed protective guards in 16 key coverage areas, a mid-mounted cooling module that provides special cooling and advanced air filtration components for working in concentrated dust and debris-filled environments, and heavy duty axles that support solid tires. The 621F and 721F Waste Handlers are engineered for resilience in harsh environments, helping scrap recycling centers to maximize uptime by protecting their machines from costly failures.
"CASE developed an unobtrusive factory-born waste handling package because our scrap customers want an OEM solution purpose-built just for their jobs," says Rob Marringa, brand marketing manager, CASE Construction Equipment. "Reliability and durability are their utmost concerns. They want the reassurance that their wheel loaders will survive the operating environment, and a factory-installed solution, backed by CASE, gives them that confidence."
The protective guarding includes thick metal-wrapped hydraulic hoses with heavy gauge steel lift cylinder tube guards, windshield windscreen guard, bolt-on front and rear frame guards, front axle covers, front and rear frame articulation joint guards, light guards, transmission guard and side cover and fuel tank guard.
Material ejectors ensure that the material being moved doesn't compromise the cylinder pockets. The Waste Handlers are available with multiple optional attachments specifically engineered to maximize productivity in the scrap and recycling industries, including a large capacity waste handling bucket with rubber cutting teeth, grapples and forks.
The CASE Cooling Cube on the 621F and 721F Waste Handlers reduces clean-out intervals and susceptibility to thermal events. It features wider fin spacing that maintains cooling capability by allowing larger particulate debris to pass through the coolers, decreasing build-up. The cooling module cover also is slanted to reduce material build-up and aid in self-cleaning. A programmable auto-reversing fan automatically purges the screens and coolers for less manual cleaning, which increases operating times. Additionally, a Sy-Clone ejective air pre-cleaner ensures the capture of those larger particles prior to handling by the primary air filter which results in fewer filter changes. Finally, the added sealing around the cooling module diminishes build up in hard to reach areas.
The heavy duty axles on the 621F and 721F Waste Handlers offer auto-locking front and open rear differentials, metal face seals and sintered bronze brake linings. They provide outstanding traction in all conditions, superior sealing capability and longer service lives. Most importantly, they can accept higher load capacities, allowing operators to configure the wheel loader with solid tires, commonly demanded in most scrap and waste applications, to reduce the likelihood of a flat.
As with its entire F Series fleet, CASE chose selective catalytic reduction (SCR) technology for the 621F and 721F Waste Handlers to meet Tier 4 Interim emissions standards. SCR results in lower temperatures in the exhaust system while optimizing combustion with no downtime or extreme temperature spikes attributed to regeneration found on machines outfitted with cooled exhaust gas recirculation (CEGR) and diesel particulate filters (DPF).
"CASE is the only domestic manufacturer to strictly use SCR on wheel loaders," Marringa says. "We feel that SCR is the most obvious choice for wheel loaders because its tasks are so variable, creating inconsistent engine loads and power demands as well as extended periods of idling. However, operators do need strong lift capacity, robust pushing power, and quick cycle times. So rather than compromise power, we let the engine run at peak performance by using an after-treatment for emissions rather than recirculating the exhaust."
According to Marringa, operators will experience a faster throttle response and cleaner emissions by avoiding recirculation equipment utilizing CEGR and DPFs.
The advanced instrument cluster (AIC) on the 621F and 721F Waste Handlers includes four operating modes and a tri-mode power feature that maximizes fuel economy by allowing the operator to select engine throttle and RPM requirements based upon the task. In addition, Auto Idle, a fuel-saving feature, allows for multiple idle rates, reducing fuel consumption while operators are in between tasks.
"Auto idle and an automatic engine shutdown feature can provide up to another 30 percent in fuel savings," says Marringa. "The 621F and 721F Waste Handlers deliver the best fuel economy and performance in their class sizes and give operators flexibility in matching engine power to their jobs."
Multiple data screens and menu patterns in the AIC allow operators and service technicians full visibility and control of basic job functions, such as start-up gear selection and job site fuel efficiency, as well as protective controls including Automatic Machine Protection, which recognizes critical problems with the hydraulics, engine or transmission and shuts down the engine, helping to eliminate costly repairs.
The CASE F Series Waste Handlers deliver class-leading comfort and visibility, including the CASE Quiet Cab, optional joystick steering, a standard rear view camera, floor-to-ceiling windows and improved lighting system.