MACK MP8 engine now available in MACK TerraPro concrete pumper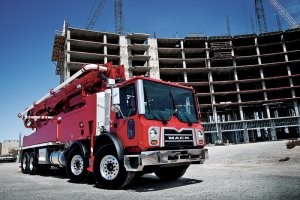 Mack Trucks announced that its 13-litre MACK MP8 engine is available in the MACK TerraPro concrete pumper.
The engine meets increased customer demand for high horsepower and torque in concrete pumper applications. The Mack MP8 features three ratings and special performance calibrations unique to the concrete pumping industry. Ratings of the MP8 range from 425 to 505 horsepower and 1,760 ft.-lb. torque, offering maximum power for demanding concrete pumper applications.
"The higher horsepower and torque available with the MP8 provide effective and efficient operation of the concrete pump under the demanding and variable engine loading conditions that are routinely encountered during operation," said Curtis Dorwart, Mack vocational product marketing manager. "Concrete pumpers demand incredible power and performance, both of which are offered by the Mack MP8 and Mack TerraPro combination."
The Mack TerraPro Cabover offers superior visibility and unmatched durability. Specifically designed to easily navigate tight turns, the TerraPro model offers excellent maneuverability, greatly enhancing safety on jobsites.
Equipped with the MACK Maxitorque ES manual transmission, MACK C150/151 and C202/203 axles and the Mack MP8 engine with MACK ClearTech SCR System, the TerraPro concrete pumper has a completely integrated MACK Pedigree Powertrain, offering seamless communication among components for improved performance.