BTI INTRODUCES the TRX64
TAKING REACH TO THE EXTREME FOR THE WORLD'S TOUGHEST BREAKING APPLICATIONS.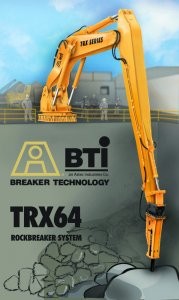 Breaker Technology Inc. (BTI), a global leader in stationary rock breaking systems. has recently announced its development of the largest Rockbreaker in the world.
Weighing over 110,000 lb (50 tonne), the BTI TRX64 system combines an unforeseen reach of 64 ft (19,5 m) and a breaker impact force of 12,000 ft·lb (16 300 joule), with the tested reliability of our existing product range. The TRX Series booms range in length from 48 to 64 feet (14,6 to 19,5 m) carrying breakers from 8,500 to 20,000 ft·lb classes, depending on reach.
The TRX64 represents BTI's 2,000th system produced extending a commitment to providing the best in rock breaking boom system technology.