New 988K Wheel Loader features efficient new loader linkage, expanded versatility, greater fuel efficiency and added operator amenities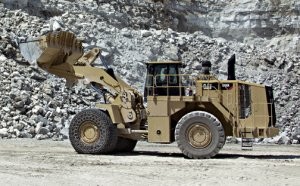 Introduction of the seventh-generation Cat 988 Wheel Loader, the new 988K, marks the 50th anniversary of the 988 delivering reliable, profitable performance for worldwide customers. Designed as an optimum loading tool for Cat construction and mining trucks, the 988K features redesigned loader linkage, worldwide engine configurations, drive train modifications, redesigned cab and enhancements in safety and serviceability. The 988K builds on the premium features of previous models to set new standards for customer value.
Caterpillar announced the new 988K at the bauma trade show in Germany. The loader will be available commercially in August of this year.
The Cat C18 ACERT engine powers the 988K and is available as a Tier 4 Final/Stage IV version (using selective catalytic reduction to control nitrogen-oxide emissions), and as a Tier 2/Stage II version for less regulated regions. Electronic fuel control ensures optimum performance and throttle response, delivering up to 20 percent greater fuel efficiency, compared with the 988H. Additional fuel savings accrue with the 988K ECO Mode (on-demand throttle), engine-idle shutdown system, and engine-idle kickdown/auto-resume system. Greater fuel efficiency and lower emissions significantly reduce the carbon footprint.
The patented Optimized Z-bar loader linkage replaces the 988H mono-boom design and expands 988K versatility in small quarries and underground applications. The new design, using solid steel lift arms in either a standard or high-lift configuration, reduces machine height at maximum lift yet increases dump clearance. The design also shortens machine length for greater maneuverability. The new linkage combines with durable, precisely designed Cat Performance Series buckets to enhance production potential.
The exclusive Cat impeller clutch torque converter uses a lock-up clutch, providing direct drive to boost fuel economy, trim cycle times, and reduce heat, especially in load-and-carry applications. The system allows operators to balance rimpull and hydraulic power for optimum loading efficiency, and the Automatic Retarding Control (ARC) system utilizes the optional compression brake to maintain desired downhill speeds and reduce service brake wear. Positive Flow Control implement hydraulics use a variable displacement, electronically controlled pump to precisely apportion oil flow based on control lever movement.
The all-new operator station features the Cat Next Generation Vital Information Management System (VIMS), which provides expanded capabilities, including real-time fuel consumption and fuel efficiency (material loaded per unit of fuel) data, through an interactive touch screen. In-cab sound levels are considerably reduced – to 71.1 dB(A), down from 74.2 dB(A) in the 988H, and the cab temperature control system is automatic and continuously variable. The Cat Comfort III seat features integrated controls for smooth and comfortable operation. Transmission controls, integral with the STIC steering lever, allow convenient travel control.

For added safety, a remote panel houses a stairway light switch, engine shutdown switch, and lockouts for the transmission and engine starter. A second panel provides convenient access to the battery disconnect switch and a jump-start receptacle. A rearview camera system provides crisp images via the in-cab monitor. Routine maintenance points are easily accessed, including hydraulic pressure taps and oil sampling ports.
Options for the 988K include the Cat Payload Control System and Cat Detect Object Detection, which builds on the Cat camera system with radars and in-cab software that provide notification to the operator when an object is detected within the radar coverage area.
Other options include an integrated axle cooling package, ride control, fast-fill fueling system, automatic lube system, three-spool valve, high-speed oil-change system, LED lighting, cold-start package, and the powerful Cat Product Link telematics system.