New Terex TR60 rigid dump truck does much more than meet emissions regulations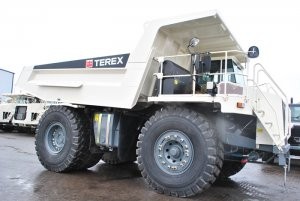 Terex Construction introduces the company's first US Tier 4i/EU Stage IIIB compliant rigid dump truck, the TR60. (A derivative engine is also available to meet US Tier 2 and EU Stage II for compliance with the rest of the world machines.) This well-established 55t payload machine also features a number of other key upgrades.
The TR60's new 515 kW EU Stage 3B compliant Scania DC16 engine provides the truck with up to 5 percent more torque than its predecessor in the key 1,300 – 1,800 rev range which translates into shorter hill climb times and improved fuel economy. To comply with emissions regulations, the new engine is fitted with Scania's well proven Selective Catalytic Reduction (SCR) system.
Following the introduction of a new modulating rear brake retarder, the TR60 is the only rigid truck in the market to offer three independent retarders as standard. To slow their machine, operators can now choose to use either an engine exhaust brake, a transmission retarder or a modulating rear brake. Each of them work independently of each other, with the transmission retarder taking priority over the other two, if selected.
The benefit of having three retardation systems is that operators are provided with the best option for all possible applications, providing safe, controlled and productive downhill control.
Additionally, proper utilisation of the machine retarders can reduce stress on the foundation braking systems, extending service brake life and lowering the cost of ownership.
"Using the pre-set stages of the modulating rear brake retarder control, the operator can find exactly the right level of retardation for the regular descents. They can then leave the control in position and switch the system on and off at the touch of a button. It makes life easier for drivers and gives them more control," says Scott Pollock, Global Product Manager for Terex rigid trucks.
Foundation braking is by dry disc at the front and force cooled wet multi-disc on the rear. Inside the revised cab, the TR60 has upgraded electrical systems and the electrical interface is now similar to that in the latest Terex articulated dump trucks. A new integrated dash layout provides operators with additional feedback and greater control, enabling them to select machine functions for excellent productivity on any duty cycle.
Even with all the upgrades, the TR60 still has the lowest gross vehicle weight in its class. This benefits machine owners by reducing structural fatigue and fuel consumption, extending tyre life and lowering operating costs.
Those familiar with the TR60 will also notice improved visibility as a result of the lowered height of the air cleaners on the front platform of the machine. This, in addition to the repositioning of the engine coolant tank, has also improved service access.