Fisher adds range of new plows for skid steers and trucks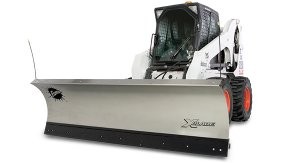 Fisher has recently added three new plows, including STORM BOXX Pusher Plows for wheel loaders and backhoes, XBLADE and HD Series snowplows for skid steer mounting, and the XV2 V-plow Snow Plow for truck mounting.
STORM BOXX pusher plows, skid steer models are available in 8- and 10-foot widths while backhoe loader models are available in 10- and 12-foot widths. Both feature 36-inch tall moldboards and side plates. Three wheel loader models are also available in 12-, 14- and 16-foot widths with 48-in tall moldboards and side plates.
All STORM BOXX pusher plows feature fully-welded construction, adjustable and reversible rubber cutting edges and heavy-duty abrasion-resistant bolt-on wear shoes.
XBLADE and HD Series snowplows are now offered for skid-steer loader applications. Equipped with a universal skid-steer mounting plate, the skid-steer's standard auxiliary hydraulics provides the power to angle the blades left or right.
"Both the XBLADE and the HD Series feature FISHER'S proven trip-edge design," said Andy McArdle, FISHER product manager, "That means only the edge trips back when striking an obstacle, so the blade remains upright getting you safely over that obstacle without losing your entire load of snow." Available in 8- and 9-foot widths, XBLADE units combine excusive X-bracing with corrosion-resistant stainless steel moldboards for reliable, hi-performance plowing.
The rugged FISHER HD Series snowplows withstand the rigors of commercial plowing. Units are available in 7'6", 8', 8'6" and 9' widths.
The new FISHER XV2 V-plow is designed to provide a new standard in V-plow performance and durability.
"While retaining the best of our popular XtremeV™ V-plow, the new XV2 adds performance and durability features that take V-plow productivity and reliability to another level," said Andy McArdle, Fisher Engineering Product Manager. "The most noticeable change is the extreme flared blade design. The blades now rise from a 31-inch center height up to 39 inches at the outer edge on the 9'6" models."
Stainless steel blades are available in 7'6", 8'6" and 9'6" widths while the two widest blades are also available in 14-gauge steel with Fisher's STORM GUARD™ powder-coat finish. The enhanced center hinge now features three connection points for added strength plus a larger 1-1/4" diameter heat-treated center pin for more durability.
"Super fast hydraulics deliver maximum plowing efficiency," adds McArdle. "And the trip-edge design provides protection in all blade configurations, getting you over obstacles without losing your entire load of snow." Standard InstaLock double-acting cylinders hold the wings firmly in place for clean back-dragging while allowing you to lock both wings together to easily maneuver your plow as a straight blade.
Other standard XV2 V-plow features include the FISHER FLEET FLEX electrical system for true fleet interchangeability with programmable features like "soft-stop", "one-touch float" and the SECURITY GUARD™ anti-theft system. The XV2 also incorporates the proven Minute Mount® 2 mounting system for fast and easy hook-up.