Kobelco Cranes launches new crawler cranes: SL6000G/SL4500G and SL6000S/SL4500S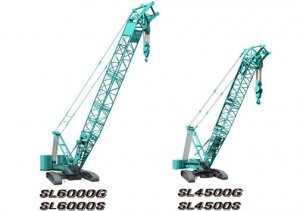 Further evolution of the SL series with improved assembly/transport/crane capabilities and environmentally-friendly engines to meet the latest regulations
Kobelco Cranes Co., Ltd. announces the development of their fully hydraulic crawler cranes SL6000G/SL4500G (lifting capacities: 550 tons/400tons) and SL6000S/SL4500S (lifting capacities: 550 tons/400 tons).

SL6000G/SL4500G is equipped with engines that meet EPA Interim Tier IV and Euro stage IIIB emission regulations, therefore quieter and smoother, proactively addressing safety and ecological considerations.
The newly developed SL6000G/SL4500G and SL6000S/SL4500S are redesigned models of the highly successful SL6000 and SL4500, and this evolved SL series with improved modernized cabs, user-friendly interface with touch screen technology, improved transport, logistics and efficiency.
Additionally, enhanced crane capacities which will surely be favoured at many construction sites.
In recent years, large crawler cranes were expected to be safer and more environmentally friendly and to have improved operational performance and transportability. Kobelco will, as always, strive to be innovative and to meet customers' needs by further expanding the lineup of crawler cranes and improving customers' satisfaction.
Main Features of the SL6000G/SL4500G and SL6000S/SL4500S
1. Equipped with engines in conformity with regulations in Europe and North America (SL6000G and SL4500G only)
• Adoption of DPR to the engines enables cleaner emission and conformity with many different environmental standards.
2. Accommodate various site needs with wide range of functions and specifications
• Flexible specifications; enough to accommodate the demands of every job site.
• Each model has three types of configuration: standard, heavy lift, and super heavy lift.
• Additionally, various attachments are available for all models, such as offering luffing boom, long, luffing jib, and heavy fixed jib.
3. Kobelco's unique idea for unparalleled efficiency that will revolutionize transport and improve assembly and logistics.
• Disassembly for transport width within 3.0 m and disassembled mass for transport below 32 tons. Despite the fact that it is a large model and the impact of the increase in engine size, Kobelco has succeeded in keeping the transport width within 3.0m and disassembled unit weight for transport below 32 tons through our unique weight reduction, downsizing, and efficient instrument arrangement.
• Incorporation of various attachments and functions for assisting efficient transport
• The addition of a new counter weight, steel bar pendant (SL6000G and SL6000S), reeving winch system, etc.to the conventional functions to provide excellent operational efficiency.
• Sharing booms reduces storage and transportation costs to save time and money.
4. Delivering comfort and peace of mind
• Cab over a new design
-The new cab has more space inside with simple layout providing better visibility and environment to create better efficiency.
-Equipped with a cab tilt function which makes long hours of lifting at height more comfortable.
• ML monitor's touch screen enables intuitive control
Intuitive monitor with pictograms and enhanced crane status recognition.
5. Functional design
• With any compromise everything about the SL-series has been revamped transforming it into a crane perfect for the modern age.

Company info
Related products