Lincoln Electric's Flextec 650 launched for multi-process welding in heavy equipment and construction environments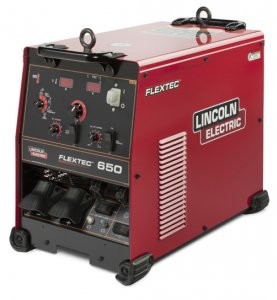 The new high amperage Flextec 650 multi-process welder from Lincoln Electric delivers up to 815 amps of welding power. Its FLEXible TEChnology allows welders to use a variety of processes – stick, Touch Start TIG (DC), MIG, flux-cored CV submerged arc and arc gouging – on numerous applications, including heavy equipment and transportation, construction and welding education.

The inverter-based Flextec 650 is rated at 650 amps at 100 percent duty cycle with a robust amperage range of 10-815 amps, while weighing in at only 165 pounds in a case that measures only 21.83 inches high by 16.3 wide x 29.33 deep. Lincoln Electric Ready-Pak and One-Pak packages configured with popular Lincoln Electric wire feeders and accessories are structured for easy ordering. Job site-ready rack packages are also set for future release.
Built with quality and reliability in mind, the Flextec 650's features include the following:
• Flexible multi-process capability for handling the widest range of welding applications
• Low power consumption resulting in operating cost savings
• Lighter in weight for enhanced portability
• Selectable hot start for extra starting amperage
• Faster arc response with variable arc control
• Remote control operated by a foot pedal or hand control up to 100 feet away

The Flextec 650 is IP23 and Desert Duty rated, meaning it can operate in extreme field environments. Welding outputs are rated for extreme temperature operation up to 55 degrees C. Tough PC boards stand up to dust and humidity, while the Fan-As-Needed(tm) feature reduces power consumption, dirt intake and damaging thermal cycling.