Mustang R Series skid steer loaders: A whole new breed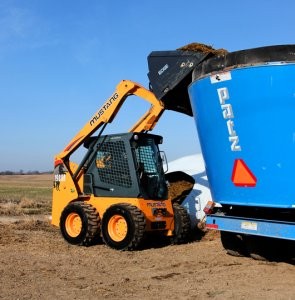 Mustang has redesigned their full-sized radial lift skid steer loader line. The all-new herd, the R Series, includes three models - the 1900R, the 2200R, and the 2600R. Offering a brand new operator's station with an integrated digital display, improved 360-degree visibility, pressurized cab option, Tier IV-compliant Yanmar engines and an enhanced hydraulic system, the R Series is a new breed in the Mustang stable.
The R Series radial-lift skid steer loaders fall into the large-frame category, bringing raw performance to the jobsite. When equipped with optional counterweights, the rated operating capacities range from 2,110 lbs. (957 kg) on the 1900R to 2,780 lbs. (1,261 kg) on the 2600R. Lift heights reach up to 120.5 inches (3,061 mm) on the 1900R and 123 inches (3,124 mm) on the 2200R and 2600R.