Logix Processor line expanded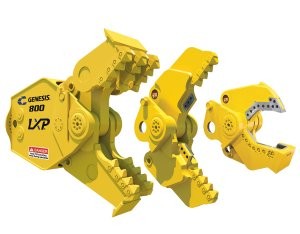 Genesis Attachments has announced the expansion of its Logix Processor, LXP®, product family with the new LXP 800, providing the line's largest jaw openings, jaw depths and capacities. Featuring concrete pulverizer, shear and concrete cracker jaw openings of 61, 40 and 71 inches and jaw depths of 39, 35 and 50 inches respectively, the LXP 800 is a powerful demolition tool for large columns, structures and projects, fitting 90,000 to 150,000 pound excavators.
"Conversations with contractors and an analysis of tools on the market identified the need for a versatile, interchangeable-jaw attachment that has bigger jaw openings and depths," says Steve Letko, Genesis engineering services manager.
"The Genesis LXP has always been a powerful concrete processor that enables customers to change-out jaw sets in 15 minutes to meet the needs of their application, but now it provides even more power and capacity, opening the door for demolition contractors to use one tool on a job that previously required two or to bid on jobs on which they previously might not have been able."
All LXP jaw sets feature a patented pivot system that keeps each jaw set's pivot group intact, providing a power curve that matches the jaw's primary application, and bolt-on wear parts for quick and easy maintenance.