Cat Demolition & Sorting Grapples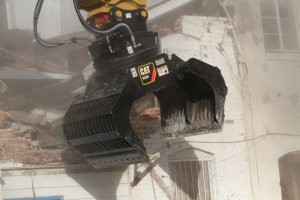 Cat Demolition & Sorting Grapples are designed for the most rigorous applications, including building demolition, construction and demolition debris recycling, scrap recycling and solid waste transfer station loading, as well as tree removal and for any difficult-to-handle materials. These versatile, heavy-duty tools are capable of handling large volumes of material while providing the ability to sort through recyclable debris, thus enhancing recovery rates and reducing related costs for labour, transportation and landfill fees.
The Cat Demolition & Sorting Grapples lineup includes five models designed to fit a broad range of Cat hydraulic excavators, both crawler- and wheel-type, with operating weights from 22,000 to 99,200 pounds (10 to 45 mt). These work tools are designed for severe service, using high grade, impact resistant steel throughout, with reinforced jaws and high-wear cutting edges made of AR500 steel.
For flexible performance, the grapples feature 360-degree rotation, allowing precise positioning of the tool without moving the machine. Synchronized jaws enhance control of the grapple, allowing repeatable action cycle after cycle, and high clamping forces ensure material retention during each cycle to boost production efficiency.
The precise design of the grapple results in edge-to-edge contact along the tips of the jaws, which allows the operator to pick out the smallest items for selective recycling. Overbite stops further enhance edge-to-edge contact even when working in thin materials.
Wide jaw openings, ranging from 71 to nearly 90 inches (1,800 to 2,270 mm), greatly expand the working flexibility of the grapples and allow visibility to the work area for more effective material screening. The zero clearance design of the jaws allows the grapples to work tightly against vertical walls and containers, and the smooth inner profile of the jaws allows material to easily enter and exit without catching, thus speeding production cycles.
The high-torque rotation motor is engineered for reliable performance cycle after cycle and is protected from jobsite hazards. Serviceability features for the new Cat Demolition & Sorting Grapples include ample access to internal parts, ground-level access to grease points and replaceable cutting edges.