Tandem roller offers maximum productivity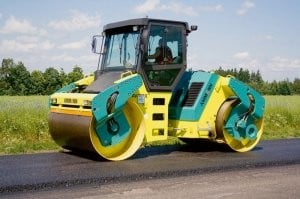 The AV 120 X asphalt roller is the latest addition to the family of articulated tandem rollers made by Ammann. Equipped with 1,880 mm (74 in.) wide drums, the AV 120 X is ideal for carrying out highly efficient compaction work on asphalt mixes and binder courses. Its large installation width and high static linear load produce top surfaces with outstanding properties.
The machine operator can achieve outstanding results thanks to an unobstructed view of the drum, a slideable and rotatable driver's stand and the simple operation of all control functions. A drive system with two hydraulic pump systems delivers excellent driving and rolling properties.
Benefits at a glance
• Perfect all-round view of the entire machine.
• Twin drive system for improved driving properties.
• Very low operating costs.