Improved Lokotrack LT106 jaw plant: New features increase efficiency and lower operating costs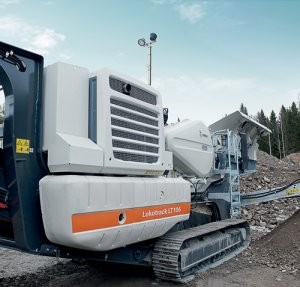 Metso introduces the improved Lokotrack LT106 jaw plant, with new features designed to deliver higher productivity at lower cost per ton. The updated LT106 is even more reliable than its predecessor, with a robust crusher drive and heavy-duty air filtration system with pre-cleaner requiring less maintenance. High-inertia flywheels mean fewer power peaks, so the engine consistently operates at optimum speed, lowering fuel consumption by as much as 25-30%.
Improved performance
The LT106 is built around Metso's proven and enhanced C106 jaw, featuring a 42 inch x 28 inch (1060 x 700 mm) crushing chamber for high output. The LT106 is also fitted with an aggressive vibrating feeder. An advanced Metso IC700 control and monitoring system with ultrasonic level sensor automatically adjusts feed rate for peak productivity.
A new hydraulic system, coupled with an environmentally friendly, low-emission CAT C9.3 Tier 4 or C9 Tier 3 engine and high-inertia flywheels, offers excellent fuel efficiency of 4-6 gallons (17-22 litres) per hour on average without compromising process flexibility, safety or durability of the hydraulic drive.
Setting standards in mobility
The Lokotrack LT106's compact dimensions and agility on tracks mean lower transport costs between and within crushing sites. The chassis design, with good clearance on both ends, enables safe and easy loading onto a trailer. The unit is ready for crushing or transport within minutes, thanks to the patented feed hopper with a safe hydraulic securing system and radial side conveyor.
Safe and easy to operate
New design features, such as engine and flywheel composite covers, together with large service platforms and excellent accessibility make daily operations safe and easy. "There are so many things you can point to that make this new Lokotrack LT106 better than the previous one," said Tommi Lehtonen, Metso Vice President, Mobiles. "It is completely re-engineered, design work was driven by our close relationship with our customers, and the result is a more efficient, reliable and productive machine. Naturally, we made it the safest machine to operate in the industry."

Company info
Related products