Ty-Wire hybrid screen media offers benefits of polyurethane and woven wire cloth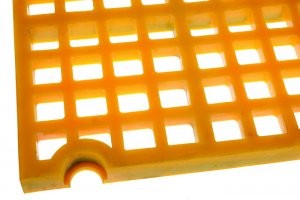 By combining the durability and longevity of polyurethane with the greater open area and cost-effective characteristics of woven wire cloth, the new Ty-Wire Screen Media from W.S. Tyler offers a highly efficient screening alternative to traditional screen media. Featuring a unique design that delivers up to 80 percent more open area than modular polyurethane, minimizing blinding and virtually eliminating pegging, Ty-Wire increases screening efficiency and operational uptime. Furthermore, the unique hybrid design reduces maintenance costs and enhances product longevity.
Because materials and applications vary greatly from one operation to another, 100 percent polyurethane or woven wire screen media aren't necessarily the ideal fit for all. Characterized by its resilient, low-maintenance qualities, polyurethane is a common screen media choice, but can be very expensive and heavy. A lower-cost option – woven wire – is productive, yet can fall short of yielding the longevity required in many applications. Ty-Wire blends polyurethane and woven wire into an affordable, practical option that's also designed to maximize screening efficiency and productivity. Comprised of high-carbon woven wire encased with and engineered grid comprised of polyurethane composite, Ty-Wire is able to withstand high temperatures and high tonnages, while offering a wear life of up to six times longer than wire cloth.
Featuring a tapered opening design, Ty-Wire releases more near-sized material, allowing it to perform as a self-cleaning screen. The top of each opening is narrower than the bottom, preventing plugging of near and oversize material, a common effect of centerline sizing designs. The combination increases uptime and profits while eliminating inefficiencies and unnecessary downtime for cleaning of screen media.
Ty-Wire is compatible with any vibrating screen and requires no deck conversion before installation. Typically, a switch from a woven wire cloth – which requires a cambered deck – to a product that sits flat – such as polyurethane – requires a costly deck conversion. However, Ty-Wire is available in modular panels for a flat deck and can be hooked for a cambered deck to eliminate this requirement.
Complex or simple, Ty-Wire is effective for the screening in virtually any application of both wet and dry materials. The screens are available with clear openings, ranging from 1/8 to 1-1/2 inches, thickness from 5/16 to 5/8 inch, and open area from 23.5 to 56.2 percent.