Ariens introduces Hydro Pro Sno-Thro line
Features hydrostatic transmission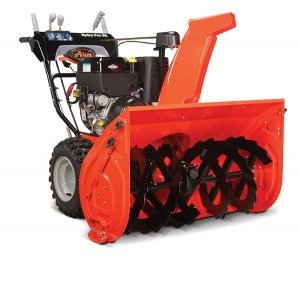 Ariens Company has introduced the new Hydro Pro Sno-Thro featuring the company's first hydrostatic transmission in a snow thrower. The durable hydrostatic transmission allows for infinitely variable speed selection and maintenance-free operation, making the Hdyro Pro an efficient snow thrower for professionals.
The Hydro Pro Sno-Thro series allows operators an infinitely variable speed selection from zero to the full speed of the machine. Because the speed can be adjusted while the snow-thrower is in-use, the operator doesn't need to stop the machine, even when going from forward to reverse speeds. This feature greatly enhances the efficiency of getting a job done, which is ideal for professionals with multiple properties to clear.
The new hydrostatic transmission was engineered in partnership with Hydro-Gear, specifically for the Ariens Professional Sno-Thro, making the partnership and application a company first. The Hydro Pro Sno-Thro series features the Hydro-Gear RT-310 transmission. The transmission, coupled with the Sno-Thro's drive system, is enhanced by synthetic oil and a thermal management system to prevent overheating during use. The hydrostatic system is also maintenance-free, because the synthetic oil does not break down like conventional oils, can sustain higher loads and can run in higher ambient temperatures than other hydrostatic snow throwers.
"Our new Hydro Pro Sno-Thro line takes Ariens to a new level, further enhancing our top-end line of snow throwers and providing consumers a significant value on true commercial-grade snow removal equipment," said Angela Raddant, snow product marketing manager for Ariens Company.
The Hydro Pro line features four hydrostatic drive models including the Hydro Pro 28, 32 and 36 and the Hydro Pro Track 28. The variable speed improvement for the new snow blowers allows operators to complete jobs at appropriate speeds for their specific conditions. Speeds are infinitely variable up to 2.7 mph on wheel-drive models and 2.2 mph on track-drive models. Additionally, the hydrostatic transmission enables operators to adjust the speed at any time and in any increments. They are also cold-start capable, requiring little to no warm-up time.
The machines have a 50-foot discharge range to ensure snow lands outside of the clearing path of the machine. Automatic traction control optimizes maneuverability, and with no levers or triggers, steering is effortless. Commercial-duty cast-iron gear cases with alloy steel gears, L-3 synthetic severe-duty gear oil and an industry-leading five-year warranty ensures durable, long-lasting performance. The fluid speed control also makes operation simple.
Additional Hydro Pro Sno-Thro features include:
• 420cc Ariens Polar Force Pro engine powered by Briggs & Stratton
• 200-degree Quick Turn remote chute control
• Commercial-duty, 0.5-inch-thick steel skid shoes and boron steel scraper bar
• Handwarmers
• In-Dash Halogen headlight
• Drift Cutters
The Hydro-Pro Sno-Thros are covered by Ariens Company's three-year consumer and one-year commercial warranty with a five-year consumer and commercial warranty on the cast-iron gear case.
Visit www.ariens.com for more information.