Caterpillar B-Series Tandem Rollers with Versa Vibe a 2-in-1 machine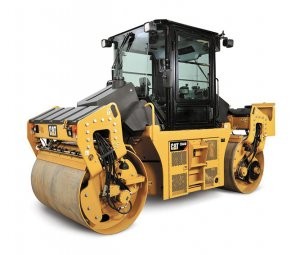 The CB44B and CD44B tandem vibratory rollers are in the 7- to 10-metric-ton size class, while the CB54B and CD54B fit the 8- to 11.3-metric-ton class. The rollers are well suited to all types of mix designs and applications.
The rollers perform exceptionally well in vibratory or static mode for breakdown, intermediate and finishing work, and are available with either split-drum or solid drum design. They provide high variation of amplitudes for breakdown and intermediate work, while their high static linear loads deliver excellent results for finishing work. Typical applications include highways, city streets, county roads, lane additions, industrial sites, overlays, airport runways, and other production-sized paving jobs.
Full floor-to-ceiling glass enables good sight lines to the drum edges, drum surfaces, and both sides of the machine. Visibility and comfort are enhanced by the standard 180-degree seating and optional 360-degree positioning. New handwheel steering technology has eliminated the front steering console, enabling the operator to easily monitor water spray performance.
The B-Series tandem rollers offer a variety of vibratory options including dual amplitude, dual frequency, Versa Vibe, and five amplitude systems. Dual amplitude and dual frequency can be tailored to thick and thin lift applications. A single switch automatically matches amplitude and frequency to keep pace with the paver.
The Versa Vibe system creates a 2-in-1 machine with four amplitudes and two frequencies. This versatile system provides two settings for lighter hitting and higher working speeds on thin lifts; and two settings for heavier hitting, and slower speeds on thick lifts or those with challenging mixes. The five-amplitude system offers the widest range of amplitudes with a single frequency. This system is a heavy hitter, with more options that help fine-tune compaction performance on thick lifts. The system also works well on tough-to-compact mix designs that consist of large aggregate and low levels of filler and binder.
The high-capacity Cat water spray systems are designed with dual pumps, triple filtration, adjustable intermittent operation, and an optional freeze protection kit.
The dual pumps provide back-up capability and alternate with the direction of travel to maximize service life. Clogging is prevented through filters at the fill point, water pumps and spray nozzles. The adjustable intermittent mode conserves water and minimizes re-fills for optimal efficiency. The optional freeze protection kit helps ensure the roller is ready when needed.
The new ECO-mode feature conserves fuel and reduces sound levels for a comfortable operating environment.