RexCon Mobile 5 Portable Batch Plant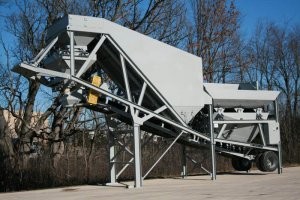 The Mobile 5 Batch Plant is the newest portable transit mix plant to be introduced by RexCon. Ideal for those remote jobsites, the Mobile 5 is a single trailer configuration which can easily be set up with a front end loader. No crane is required. Simply pick up the cement section of the Mobile 5 with the front end loader, and the front hinged support legs fold down and bolt in place.
The Mobile 5 features a 225 barrel (42 T/38 MT) storage silo with a gravity feed cement surge hopper. Two 6-inch recirculating screw augers continually replenish the cement surge hopper. When the surge hopper is full, the excess cement flows back into the silo where it is recirculated with the screws. The surge hopper capacity always assures two loads of cement are ready for batching.
A low profile aggregate bin enables direct ramping for material loading. The 3-compartment aggregate bin has more than 16 cubic yards (25 T/23 MT) of storage capacity. Standard loading height is just over 13 feet (4.1 m), and loading width over 10 feet (2.8 m) on the individual compartments.
Both cement and aggregate batchers are CPMB rated for 5 cubic yards (3.8 cu. m). Load cells on all batchers provide precise measurement of materials. Digital readouts and manual controls (in any language) with electronic pushbuttons are included. RexCon RC3 computer controls are available as an option.
The Mobile 5 is also available with a 6 cubic yard (4.5 cu. m) central mix option.
The Mobile 5 and complete information on the 6 cubic yard mixer can be inspected in the RexCon booth N1135 at the 2013 World of Concrete in Las Vegas.