B-Series production-class vibratory soil compactors from Caterpillar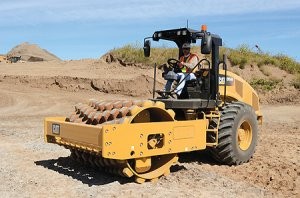 The B-Series Production-Class vibratory soil compactors from Caterpillar Inc. includes nine models in the U.S. and Canada, and 10 models in the European Union. The B-Series vibratory soil compactors feature the industry-proven productivity and reliability that have made Cat soil compactors the preferred choice of earthmoving contractors worldwide. There are many new features and enhancements that make the B-Series even more productive, reliable and durable.
In the United States and Canada, the range of vibratory soil compactors includes the smooth drum CS54B, CS56B, CS68B, CS74B and CS78B. Padfoot models include the CP54B, CP56B, CP68B and CP74B. In the European Union, the range includes the smooth drum CS54B, CS64B, CS66B, CS68B, CS74B, CS76B and CS78B. Padfoot models in Europe include the CP54B, CP68B and CP74B.
B-Series soil compactors have operating weights ranging from 10.6 - 19 metric tons (11.7 - 21 U.S. tons) and feature a newly designed operator station, universal bumper and enhanced compaction performance. The new design continues to provide the durability, reliability and ease-of-service that contractors worldwide have come to expect from Cat machines. Standard machines include Eco-mode and are well equipped for high production. There are a number of options available as well, including Cat Compaction Control featuring exclusive Machine Drive Power compaction monitoring technology.
Powertrain
The exclusive Cat dual pump propel system provides steady hydraulic flow for unmatched gradeability and blade function and now has been enhanced with electronic control for even better performance. The dual pump propel system provides separate hydraulic flow to the rear wheels and the drum for exceptional tractive effort in thick lifts, soft underfoot conditions or steep slope applications and allows for superior control on a grade in forward and reverse.
The B-Series vibratory soil compactors feature a Cat C4.4 engine with ACERT technology that offers enhanced efficiency, better serviceability, ample power, and less noise. The Cat C4.4 engine utilizes the building blocks of ACERT technology in order to meet US EPA Tier 4 Interim and EU Stage IIIB emission standards. This innovative combination yields cleaner combustion and delivers steady power in all operating conditions with optimal fuel efficiency.
The B-Series vibratory soil compactors are equipped with Eco-mode, a function which helps to economize the use of fuel. When the machine idles for a predetermined amount of time, Eco-mode is engaged and the engine rpm is lowered. When the propel is engaged, higher engine speeds resume. For certain applications, Eco-mode can be engaged to operate the engine at lower rpm than normal. The lower engine speed results in less fuel consumption. Eco-mode can also be programmed to shut down the engine entirely after a programmed amount of time.
Productivity
Cat vibratory soil compactors also feature the industry-proven Cat pod-style vibratory system. The pod-style vibratory system delivers unparalleled performance and reliability in a virtually maintenance-free design. The pod-style vibratory system contains a proprietary sealed eccentric weight system that utilizes steel shot rather than swinging steel counterweights. This design enables the operator to change amplitudes smoothly with less noise. The steel shot simply rearranges its position without any of the slamming, banging and jamming that causes hydraulic contamination in systems from other manufacturers. Eliminating contamination in this way provides high reliability, and contributes to the 3 year/3,000 hour vibratory system oil change interval.
The B-Series vibratory soil compactors have enhanced compaction capability. Weight over the drum has been added in each model, and the maximum amplitude has been increased.
There is a new automatic vibration function. When vibration is engaged, vibration will cease as the compactor slows beneath a predetermined speed. When propel resumes, vibration recommences at a predetermined speed. This feature optimizes compaction uniformity.
Automatic Speed Control is a feature that allows the operator to select a maximum working speed. Once selected, the speed can consistently be reached by engaging the propel lever to full stroke. Consistent speed contributes to compaction quality by making it easier to maintain compaction uniformity.
All B-Series vibratory soil compactors (except the CS78B) are equipped with a standard universal bumper on the yoke. The universal bumper facilitates the use of attachments, such as the leveling blade and the padfoot shell kit. This contributes to the versatility of the machines, as well as enables faster change-overs.
Padfoot drum models and optional padfoot shell kits are available with two pad designs: the exclusive Cat oval faced design and a traditional square faced pad design. The oval faced design provides deeper lift penetration, contributing to better overall compaction in cohesive soils than other pad designs. The square faced design provides optimal performance on semi-cohesive soils. It has a higher surface area, which allows it to create a good surface seal; but the larger face area does not allow deep lift penetration, so while it will meet or exceed the performance of square pad designs from other manufacturers, it cannot provide compaction results that match the oval face pad in cohesive soils.
Operator's environment
The operator's station on the B-Series vibratory soil compactors has been enhanced to provide greater operator comfort and convenience. The CS54B, CS56B, CP54B and CP56B can be configured with a ROPS/FOPS or a ROPS/FOPS Cab. All other models are available with ROPS/FOPS Cab only. Standard configurations vary by market and model.
The ROPS/FOPS configuration features multi-position steering wheel; an adjustable, pivoting vinyl seat with seat belt and integrated operator's display; a 12-volt adapter for personal electronic devices; and a floor mat. Hand rails enclose the platform area. A specially designed fixture allows the operator to securely store lunch boxes so they will not tumble about or become a hazard. Cup holders are provided on the steering column. Large mirrors provide excellent views to the rear of the machine. An additional mirror package for enhanced rear visibility is available as an option.
The ROPS/FOPS Cab is an enhanced design that provides greater comfort for the operator. The cab features a multi-position steering wheel; an adjustable, pivoting cloth seat with seat belt and integrated operator's display; a 12-volt adapter for personal electronic devices and a floor mat. Glass panels and large exterior mirrors provide excellent views to the rear of the machine. Operator comfort is enhanced with climate control, including a heater and air conditioning. Large windows on the door and right side of the cab open wide for maximum ventilation. The cab is pre-wired for the addition of a radio (not included). A cloth headliner provides a smart, finished appearance. An interior mirror package and a deluxe, high-back cloth seat are available as an option.
The operator's seat has a standard control console with display unit integrated with the seat arm. The multi-language display functions as a gauge cluster as well as provides diagnostics and additional data to the operator. Operators are able to customize the interface to display the information they prefer. Machines that are equipped with Cat Compaction Control output compaction measurements to the display as well.
The propel lever is now electronic. It functions the same as with previous models–forward and reverse with a detent for neutral. Braking is dynamic, with full stop occuring when the propel lever is positioned in the detent. A single button on the top of the propel lever controls vibration: press to start, press again to stop. Machines equipped with an optional leveling blade will be equipped with a multi-control propel lever. Along with the vibration control switch, there are three control buttons for the blade: UP, DOWN and FLOAT. These controls replace the foot pedal control utilized on previous models.
Optional equipment
Cat Compaction Control
Cat Compaction Control is a compaction measurement solution that improves quality and efficiency by providing information that allows the operator to determine when compaction meets specifications, which eliminates guesswork, reduces the risk of rework and allows the operator to quickly move on to the next job. Cat Compaction Control is factory integrated with the machine, providing greater protection for components.
Cat Compaction Control measures compaction and outputs the real time measurements via the integrated console display unit. The system can be augmented by adding an SBAS GNSS mapping antenna and a dedicated display unit, which allows the operator to visually monitor results, map them to locations and save the data for analysis or documentation purposes. An RTK GNSS mapping capability is also available that provides greater accuracy than SBAS.
Two different compaction measurement technologies are available: Compaction Meter Value (CMV) or Machine Drive Power (MDP).
Compaction Meter Value (CMV) is an accelerometer-based measurement system for granular soils. It is only available on smooth-drum soil compactors (CS models). Functioning while the drum vibrates, it measures deep into the ground, 1.0 to 1.2 m (3-4 ft), providing the operator with a picture of what is beneath the surface. CMV can reveal many things to a trained operator, such as the location of hidden anomalies (buried objects, rocks, clay balls, etc.) or areas of poor compaction. It can even indicate the need for more moisture to aid compaction.
Machine Drive Power (MDP) is an exclusive technology only available from Caterpillar. MDP indicates soil stiffness by measuring rolling resistance. It is available on all Cat B-Series soil compactors– both smooth drums and padfoots. It can also be used by smooth drum machines equipped with padfoot shell kits. It is effective on all soil types, and can function when the drum is static or vibrating. MDP measures closer to depth of the lifts of materials being compacted, around 30-60 cm (1-2 ft) deep.
MDP is more flexible than CMV because it can be used on all soil types, and because it measures more shallow than CMV, which allows results to be correlated with portable measuring equipment such as lightweight falling deflectometers and nuclear gauges. Because it does not require the drum to vibrate, there is less risk of de-compaction when used for proofrolling.
Leveling Blade
A leveling blade is available for padfoot drum models CP56B, CP68B, and CP74B, and smooth drum models CS56B, CS68B, and CS74B. The blade features a new bolt-on design, allowing its removal and reinstallation. The univeral bumper design provides this capability. The leveling blade is controlled via buttons on the propel lever. There is a button for UP, DOWN and FLOAT functions. The button controls replace the foot pedal control on previous Cat soil compactors.
Padfoot Shell Kit
A padfoot shell kit is available for all smooth drum models, including the CS54B, CS56B, CS68B, CS74B and CS78B. The padfoot shell kit provides versatility by allowing a smooth drum machine to compact semi-cohesive and cohesive materials. The kit comes with interchangeable smooth drum and padfoot scrapers. Oval pad design and square pad design are available.
Product Link
The optional Product Link system provides accurate, timely and useful information about the location, utilization and condition of your equipment. The system streamlines diagnostic efforts, maintenance scheduling, and costs by providing communication flow of vital machine data and location information between the dealer and customer.
Other options include a transmission guard, rear mounted steel scraper for the smooth drum models, polyurethane scrapers on the front and rear of the drum on the smooth drum models, an upgraded light package, and a rotating beacon.
Serviceability
Service access is simple and convenient on the B-Series vibratory soil compactors. All routine service is conducted from the right side of the machine. The durable one-piece hood tilts forward quickly and easily for exceptional access to the engine and cooling system.
The cooling package tilts for easy cleaning. Normal cleaning ensures that the cooling systems protects the engine to full capacity.
The vibratory system scheduled oil change interval is 3 years/3,000 hours. This long interval provides lower operating costs.
The hydraulic oil service interval is 3,000 hours. This will provide lower owning and operating costs, as well as increased productivity due to more uptime.
Hydraulic oil filters are easy to access and service, positioned externally beneath the operator's platform.
The hitch features sealed-for-life bearings that never need greasing. The steering cylinders feature remote grease fittings to simplify lubrication.
Other features that make servicing these machines simple include leak-resistant O-ring face seal hydraulic fittings, pressure test ports, S•O•S valves and ecology drains.