Atlas Copco HB 4100 heavy breaker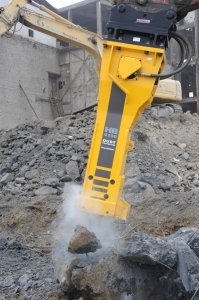 Atlas Copco's latest addition to its heavy hydraulic breaker line, the HB 4100, provides better performance and higher efficiency than the preceding model and weighs less. Designed for carriers in the 40 to 70t weight class, it has a service weight of 4,100 kg, but is as powerful as other, much heavier breakers.
"We were able to achieve double-digit percentage increases in power and efficiency while maintaining the reliability that our breakers are known for," explains Wayne Ross, Atlas Copco business line manager for construction tools.
Key features of these breakers include: a VibroSilenced system that protects operators against noise and vibrations; PowerAdapt that switches the breaker off in the event of a hydraulic overflow; AutoControl that adjusts the blow frequency and blow energy to match the hardness of the material; an automatic lubrication system; and an optional DustProtector version is available.