New attachment for Bonnell's Push 'n Plow product line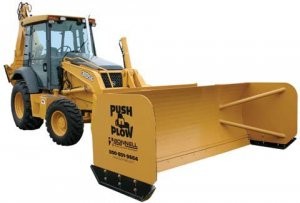 Bonnell Industries, Inc. has produced a new attachment for their Push 'n Plow products. The product was designed in conjunction with Walmart Distribution Center in Sterling, IL.
Bonnell Push 'n Plow systems have been available for years now and have proven themselves as a reliable solution to situations that require a box plow. These situations include times when snow removal, not just snow plowing, is the end goal. Bonnell has worked in the past with snow removal contractors, farmers, airports, and other organizations with large, complicated lots in need of snow removal.
Walmart Distribution approached Bonnell with a very specific need. They needed an efficient way to remove snow from around and underneath their trailers. In doing so, it would make it easier for trucks to back up to the trailers and hitch up. To achieve this, Bonnell developed a wing attachment for the current Push 'n Plow line that is shorter in height, allowing the operator to sweep underneath the tongues of the trailers lined up at the distribution center.
Bonnell Push 'n Plow products are available in widths anywhere from 6' to 30' and heights from 36" to 48". Each unit is built with convenience in mind so that attachment and detachment is very speedy. Push n' Plow units are available for skid-steers, loaders, back-hoes, and Bonnell can work with anyone wishing to explore options for their unique piece of equipment.