Innovative flexible polymer shield protects dump truck tires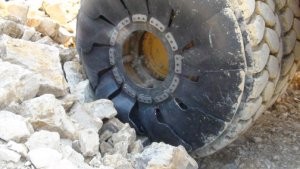 Some 70 years ago, responding to the needs of the newly-arrived, pneumatic-tired mining loaders, RUD-Erlau devised and developed the tire protection chain (TPC).
From feedback provided by TPC engineers, RUD-Erlau was well-aware of the vulnerability of dump truck tires and asked their R&D team to tackle the problem. With 130-plus years' experience in the development and manufacture of chain components, the first instinct was to create a device based on steel-alloy elements.
However, success only came when the team turned its attention to materials used in other industries and developed 'Sideflex' – a truly innovative addition to their range of asset protection products. As with other RUD-Erlau products, simplicity is the key word for Sideflex.
A sturdy set of replacement wheel nuts and extensions support a simple steel ring to which is attached a fanned array of over-lapping platelets. These platelets shield the entire sidewall of the truck tire deflecting rock fragments harmlessly away.
While the mounting components are made of steel, the all-important Sideflex shield is manufactured from a sophisticated engineering polymer which has found many applications in the automotive and other industries.
This robust material, which is used to protect automobiles, has an unique memory capability that enables the platelets to flex and deform upon impact and then return to their original shape without any loss of integrity.
The entire Sideflex assembly is so lightweight and low-profile that owners of dump trucks – small and large – have, for the first time, a cost-effective means of protecting and saving their expensive tires.
Having already undergone many months of extensive real-life, no-holds-barred field trials in a quarry, Sideflex is performing well and delivering its promised potential.