Wacker Neuson generators offer premium power package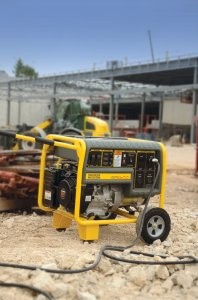 Wacker Neuson's complete line of premium portable generators deliver unmatched tool starting and voltage regulation in a rugged, compact package. Eleven high performance models in the series are available ranging from 2,500 to 6,600 watts and weights between 95 and 206 pounds. Various models are also offered with electric start, wheel kits and choice of Honda or Wacker Neuson engines.
The quality advantages start with the rotating field alternator with automatic voltage regulation and separate excitation winding. The result is a machine that offers excellent voltage regulation and superior motor starting ability. This greater motor starting capacity is a real advantage allowing operators to start larger tools for its size. The alternators are sized to ensure cool winding temperatures and therefore long life.
Six models ranging from 3,800 to 6,600 Watts feature a central ground fault circuit interrupter (GFCI) system for all receptacles including 120V and 240V-twist locks. Wacker Neuson's GFCI is UL approved and meets National Electronic Code (NEC) requirements for jobsites. Unlike most contractor grade generators, Wacker Neuson's GFCI sensor offers protection to operators no matter which receptacle is being used by monitoring all outlets for current leakage and tripping the main circuit breaker in the event of a current leak. This system improves durability and reliability because the GFCI sensor only monitors current, eliminating the possibility of damage from over current. If a current leakage is detected, the GFCI triggers the main circuit breaker which is rated to handle the total current output of the entire generator and can withstand current surges and repeated tripping without a problem.
Conventional GFCI protected generators use small auxiliary breakers built into each 120V duplex receptacle which can be damaged by over-current or repeated tripping and are a frequent maintenance item on rental generators.
Wacker Neuson contractor grade premium generator line are built to withstand construction, industrial, commercial, domestic and farm and other demanding applications. They are backed by a 2-year warranty and Wacker Neuson's first class support team.