IMT introduces revamped lineup of TireHand tire manipulators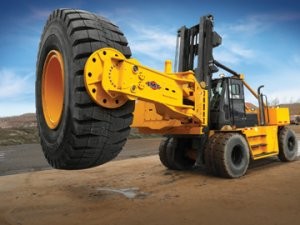 Iowa Mold Tooling Co. Inc. (IMT), an Oshkosh Corporation company, is pleased to introduce a new and improved lineup of TireHand tire manipulators that enable customers to efficiently and safely install and rotate the massive tires on mining and construction equipment. IMT has added two new TireHand models and redesigned previous offerings to meet customer needs for more capacity options, increased productivity and improved operator safety.
Available in loader or forklift truck-mounted options, the rugged IMT TireHand tire manipulator lineup provides maximum capacities ranging from 5,500 pounds (2,495 kilograms) to an industry-leading 36,000 pounds (16,329 kilograms) – including new models with 20,000 pounds (9,072 kilograms) and 36,000 pounds of capacity. Important new features of the lineup include extended capacity, optimized design and standard hydraulic fallback protection.
"Since introducing our first TireHand tire manipulators in the early 1970s, IMT has been committed to meeting the evolving tire-handling needs of our mining and construction customers," said John Field, product manager of material handling at IMT. "The newly revamped TireHand lineup enables our customers to perform big tire-changing jobs more efficiently and safely than ever in demanding environments."
Lineup features new, increased capacities
IMT developed the new and improved TireHand lineup with a complete range of capacities to match specific customer needs. IMT TireHand models and their maximum capacities include:
• TH5K115: 5,500 pounds
• TH10K135: 10,000 pounds
• TH15K160: 15,000 pounds
• TH20K167: 20,000 pounds
• TH25K164: 25,000 pounds
• TH36K164: 36,000 pounds
Developed in response to customer demand, the 20,000- and 36,000-pound capacities fill niches in the TireHand lineup. The 5,500- and 15,000-pound capacities are increased over previous models, while the 10,000- and 25,000-pound capacities have been maintained.
"The new spectrum of TireHand capacities enables customers to choose the capacity that is right for their application while minimizing the size and cost of their loader or forklift," Field said. "The new 36,000-pound-capacity model is capable of handling loader tires with chains, while the 20,000-pound TireHand is designed for customers who need more capacity than our 15,000-pound unit, but do not require our 25,000-pound capacity."
Design enhancements promote productivity
In addition to new and increased capacity, the new TireHand lineup offers numerous design enhancements that will increase efficiency:
• Optimized pad design. Featuring a redesigned grip pattern and new tapering on the pad, TireHand tire manipulators maintain their grip on the tire without damage and handle rim flange hardware with ease.
• Increased arm length. Longer arms allow TireHand models to reach the back flange on wheels.
• Minimized arm profile. The TireHand arms have been narrowed to minimize interference with chassis components during tire handling operations.
• Dual pinion pad rotation. The pad rotation on new TireHand models utilizes two motors and two pinions, reducing pinion stress and extending pinion life.
• 100-degree cylinder body rotation. Reduced body rotation on new TireHand models meets tire-handling needs while moving the center of gravity closer to the machine, minimizing the size of the loader or forklift required.
Fallback protection now hydraulically activated
The new IMT TireHand lineup offers integrated fallback protection arms that are hydraulically controlled, making them easier to use and operate than their mechanical predecessors. TireHand fallback arms provide an additional layer of operator safety. The tire technician can activate the hydraulic fallback protection feature from the control panel or a remote control. If the tire is freed from the TireHand pads, the tire will fall against the fallback protection arms, leaving a path for the operator to exit without injury.
"With the introduction of hydraulically controlled fallback protection, we have enhanced an innovative IMT safety feature that was the first of its kind and set a new industry standard," Field said.
TireHand tire manipulators offer lateral shifting capability and optional quick-coupler attachments. Additional options for the new and improved lineup include new fully proportional controls offering improved control of operating speed and a mounted camera for increased operator visibility.
IMT supports the mining and construction industries, not only with TireHand tire manipulators, but also with industry-leading Dominator mechanics trucks, SiteStar lube trucks and lube skids, air compressors and other unique devices.